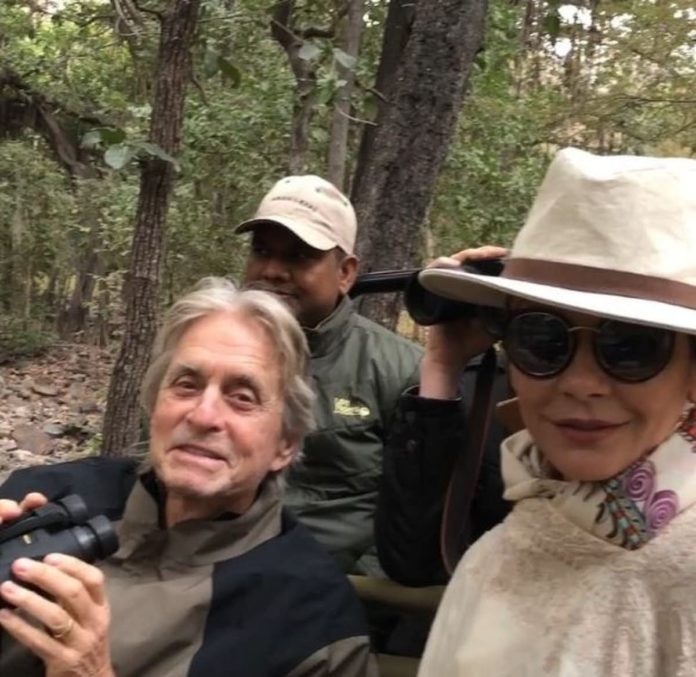 Rajasthan has a charm that never fails to attract the people. Not only Indians but also it attracts the tourists around the globe. Every year, lacs of Indian and foreigners travel to Rajasthan and enjoy its grandeur. Recently, the Hollywood celebrity couple Michael Douglas and Catherine Zeta-Jones reached Pink City. They were accompanied by their children. They also visited Sawai Madhopur for two days.
The family was spotted visiting Johari Bazar,Bapu Bazar and shopped for some artefacts. They were delighted to see Jaipur's City Palace. The couple was seen praising the beauty of the palace to kids. Catherine shooted the architectural marvels in her camera. In fact, this family visited other cities of India.
Nowadays, Twitter and Instagram are the biggest platforms where one can share their life events. It is a way to popularize oneself too. In fact, Zeta-Jones shared a video on Instagram in which she's roaming about the streets of Jaipur, observing the colourful markets there. She posted this video when she arrived in Jaipur. From their videos and pictures shared on social media, it is quite obvious that couple had a great time in India.
Who are Michael Douglas and Catherine Zeta-Jones?
Michael Kirk Douglas is an American actor and producer. Douglas has received a number of accolades for his films both in independent and blockbuster genres. Catherine Zeta-Jones is a Welsh actress. She has worked in the British television series as well as Hollywood movies. She has been recipient of Academy, BAFTA Awards and many other awards.