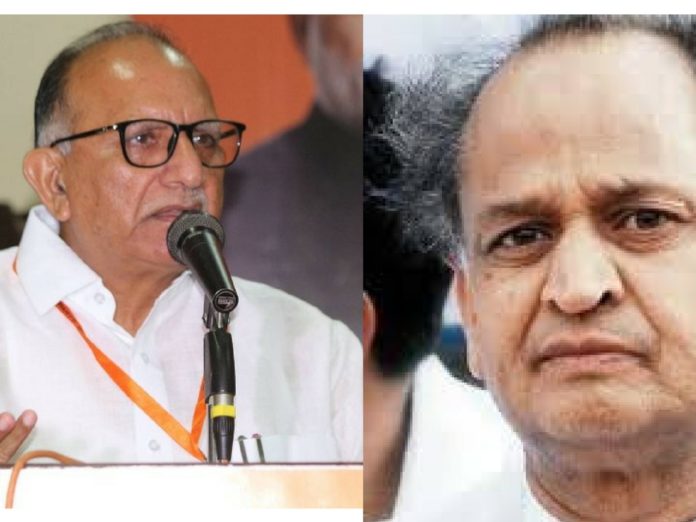 The Barmer refinery which has elicited a bitter trail of verbal battle in the Desert state is still lingering strong in the heads of former Chief Minister Ashok Gehlot who is apparently in disarray owing to the successful inking of MoU by Raje government.
Ashok Gehlot  chided the Chief Minister for signing the MoU after 3 years of governance. However, this was a mere attempt to conceal Gehlot's own flaws as he inked an imprudent MoU in his reign.
The Barmer refinery MoU between HPCL and the state government was followed by a series of meaningless accusations and misclaims by Ashok Gehlot, which were followed by a natural response from state BJP President Ashok Parnami.
"There are technical aspects which need to be considered in such cases. We took out time and ensured the state gets the best deal. Rather than congratulating the chief minister, Gehlot is finding baseless faults. Why had he not formed a technical team to look into the project and the negotiations," Parnami asked.
"In the 2013 MoU, the then Congress government had agreed to pay an amount of Rs 56,040 crore as interest to HPCL over 15 years. In the MoU signed on Tuesday, as per the new terms, the BJP government will be giving Rs 1,123 crore every year instead of Rs 3,726 crore annually. This means the amount to be paid over 15 years is Rs 16,845 crore. That is how the state saves about Rs 40,000 crore," Parnami added.
Parnami also claimed that the refinery project was ideated by BJP and not Congress. This means that Gehlot has been callously taking credit for the project.  In 2013, Gehlot got a refinery project signed with HPCL to exhort humungous monetary benefits for himself.
Parnami spelled out: "CM Raje started working on the project in her first term as the chief minister. Gehlot did get the MoU signed with HPCL in 2013 but that was an unplanned, hurried move where the state was losing a lot and gaining nothing. The 2013 MoU was signed in the election year only to drain a political benefit out of it."
Taking cue from Congress' erroneous move, BJP Supremo decided to reconsider and contemplate each and every aspect of this MoU. BJP Rajasthan therefore roped in Price Waterhouse Coopers (PwC) as consultants for submitting a detailed report in nexus with the Barmer refinery project.
PwC submitted its report on the refinery project in September 2015, which was followed by a slew of negotiations and considerations. "The BJP took three years to ensure all aspects are being covered and heavy negotiations were done and maximum benefit for the state drawn, Parnami informed.