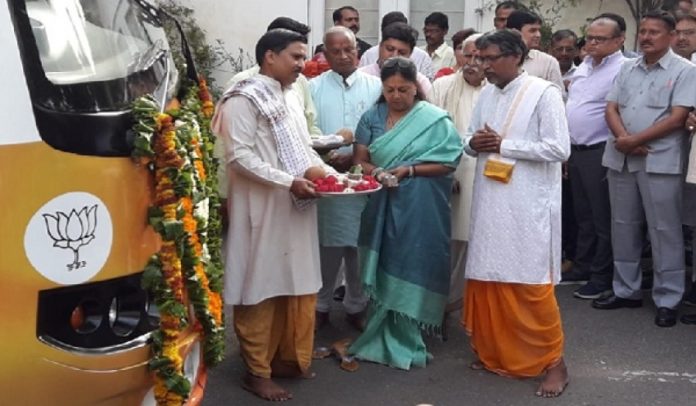 For winning the upcoming Rajasthan Assembly Polls 2018, CM Raje is all ready. It is the third time, Chief Minister of Rajasthan Vasundhara Raje will embark her victory tour i.e. Rajasthan Gaurav Yatra. Every time, she starts her yatra from Charbhuja Nath temple in Rajsamand, Udaipur. She seeks the blessings of the divinity for the remarkable victory. Talking about Charbhuja Nath temple in Rajasthan, it is also decorated well. Know more.
To lead the CM on path of victory, this temple had played an important role. In her two previous yatra made in 2003 and 2013, she had come out victorious. This temple is decked up with the green and saffron of BJP flags. Charbhuja Ji is another name for Lord Vishnu. In 2003, Vasundhra Raje had started her Parivartan Yatra while in 2013, she had launched the Suraj Sankalp Yatra.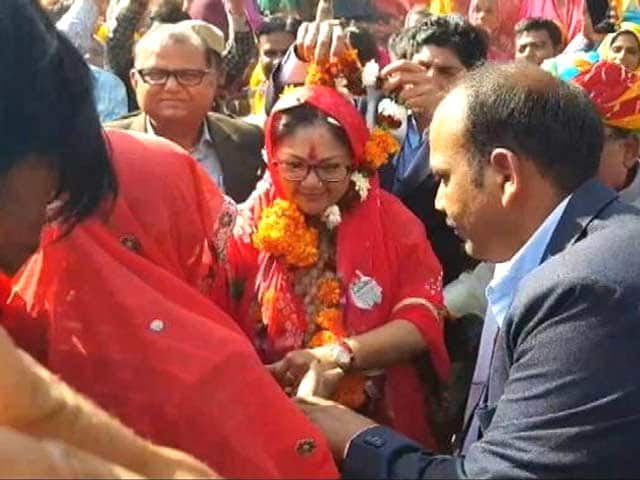 CM started her 40-day yatra from 4th August in the presence of BJP president Amit Shah. Both of them will address the public at J K stadium in Rajsamand. Rajasthan Gaurav yatra will be concluded on 30th September in Ajmer. The end of yatra will be done with a huge rally, which will be attended by PM Narendra Modi. CM Raje will cover more than 6,000 km during the 40-day tour of the state.
Vasundhara Raje worshiped at Charbhuja Nath temple. This pooja has been observed under the guidance of group of saints. Amit Shah has also reached the temple by a helicopter. BJP party workers and ministers reached to welcome him. Shah flagged-off to begin the yatra .