The government of Rajasthan is now planning to transport Chambal water through a train, from Bhilwara to Ajmer. In a bid to save Bisalpur Dam water, the government is working on the plan. Public Health Engineering Department (PHED) put this plan before the government last week.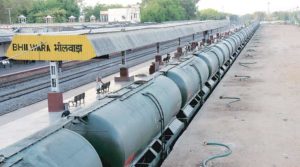 Till 2016, Bhilwara was getting water from Ajmer through a train, but now the district is connected with the Chambal water. In the year 2016, when Bhilwara was facing drinking water shortage, PHED supplied 50 Crore liters of water to Bhilwara for six months of summer.
The water train took four hours to fill the Bisalpur dam water from Nasirabad water station and three hours to reach Bhilwara. Further, it took five hours to empty the water in Bhilwara. The water train supply remained operational for years till Bhilwara was facing water scarcity.
But from 2017, Bhilwara is getting water from Chambal River and is therefore now no longer dependent on Ajmer for Bisalpur water.
PHED official said that in the high-level meeting, they put forward the proposal to transport water from Bhilwara. According to an official, the state government asked them to prepare a report of the proposal.
Read more: सीएम राजे ने किया कोटा के उच्च स्तरीय पुल का लोकार्पण
The project will save the Bisalpur water to benefit Jaipur
Ajmer PHED's project will save the water from Bisalpur dam because currently, Ajmer depends on Bisalpur water. In this scenario, Chambal River water will fulfill the needs for Ajmer. Henceforth, Bisalpur water consumption will be reduced by Ajmer and that will benefit Jaipur city and the other areas.
Rajasthan government is making various plans to fulfill the drinking and irrigation water needs in the state. Chief Minister Vasundhara Raje recently announced the Tejawala head project in Churu to bring the water from Yamuna River. 'The project will provide drinking and irrigation water to Churu, Jhunjhunu, and Sikar districts.' CM added.