CM Vasundhara Raje's another dream project Rajasthan Mantra Pratishthan has inaugurated on Tuesday. After becoming the first state to boast of a Gopalan department, Rajasthan has now rustled up this innovation. HRD Minister Prakash Javadekar and Higher Education Minister Kiran Maheshwari digitally inaugurated the center for the recitation of Mantras.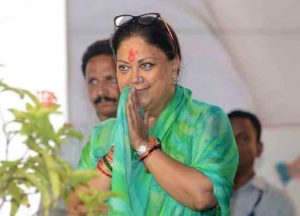 Chief Minister Raje had announced the establishment of the center in the 2007-2008 budget during her last tenure. In a bid to complete CM Raje's dream, Rajasthan government resumed the work in 2017. The center comes under the Jagadguru Ramanandacharya Rajasthan Sanskrit University.
The research institute will study the effect of reciting ancient Hindu text. Researchers will work on the effects of Vedas, Puranas, Ramayan, Geeta, Tantra Shashtra etc on the human body and universe.
Rajasthan Mantra Pratishthan: Goals and Functions
The center's long-term goal is to find the correct pronunciation and meaning of hundreds of Sanskrit words, which have been in memory of people from the past 3000 years. Besides this, the center's aim is to revive the ancient science by building recorder repository of these verses.
Read more: Rajasthan: First flower Mandi inaugurated in Jaipur's Muhana
In addition to that, the institute will study that how a human body absorbs the energy emitted out of reciting verses. Not only this, but the study will also cover that how this energy affects the mind and body along with the universe.
The institute will also study the work and process of energy to cure even the deadliest of the diseases like cancer. Similarly, how verses produce the immense amount of energy that regulates all natural occurrences like weather and seasons.
Rajasthan Mantra Pratishthan is an architectural model also. The center has a circular open area and two rectangular open surfaces for reciting. It has 12 rooms, which will be converted into two medical rooms, labs, and theory rooms etc.