As Prime Minister Narendra Modi is scheduled to arrive in Jaipur on July 7, arrangements are in full swing in the Pink City to welcome him. Reportedly, the rally conducted by PM Modi will be attended by beneficiaries of several welfare schemes. For this, the state government has already started shortlisting the names of the candidates from different districts who will be attending the rally.
As a part of the preparations, State Panchayati Raj Minister Rajendra Rathore chaired a meeting at the collectorate in Churu. In the meeting, the minister instructed that the officials must ensure to prepare a list of beneficiaries of 12 welfare schemes at the block level at the block level. He also reviewed the preparations in Churu.
According to District Collector Muktanand Agarwal, a total of 7,000 beneficiaries from the district will be participating in the Prime Minister's rally in Jaipur. As per an official of the general administration department, a detailed program of PM's Jaipur visit has not been received yet.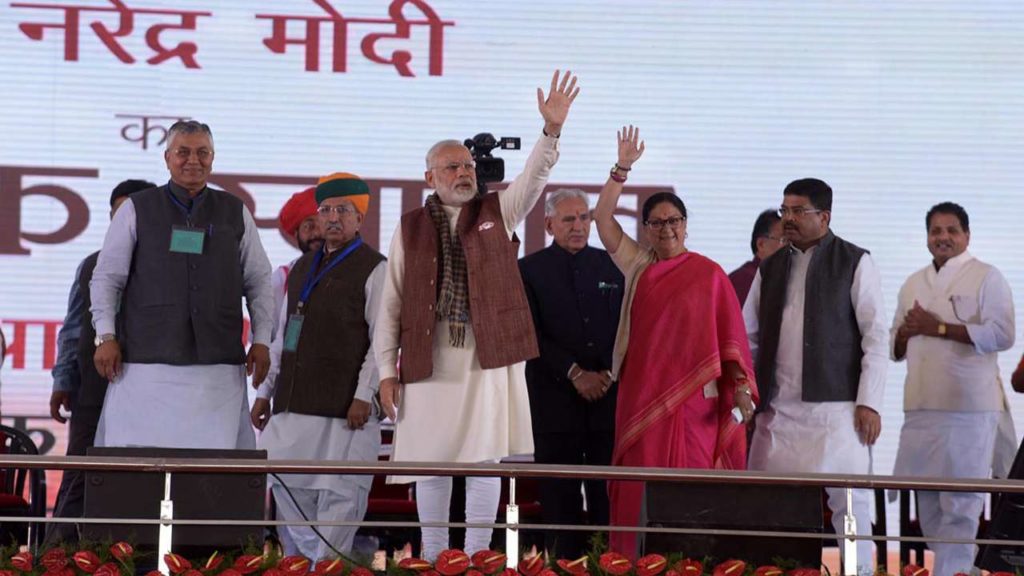 PM Modi and CM Raje during the launch of Barmer Refinery in January 2018
(Courtesy: DNA India)
As of now, it's known that Prime Minister Narendra Modi will be in Jaipur to attend a conference on urban development and smart city projects. Although the schedule is tentative as the date will be confirmed in the next few days, the state government is in full swing to make all necessary arrangements. Reportedly, the state government is working on finalizing a venue where the public function could be held.
PM Modi's Jaipur visit is being anticipated to be crucial for BJP Rajasthan because of the upcoming Assembly elections that are just a few months away now. Reports also suggest that Congress President Rahul Gandhi may also visit the state soon but there is no confirmation on the date.