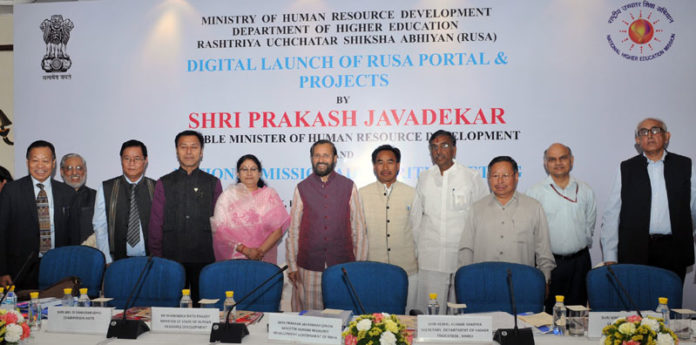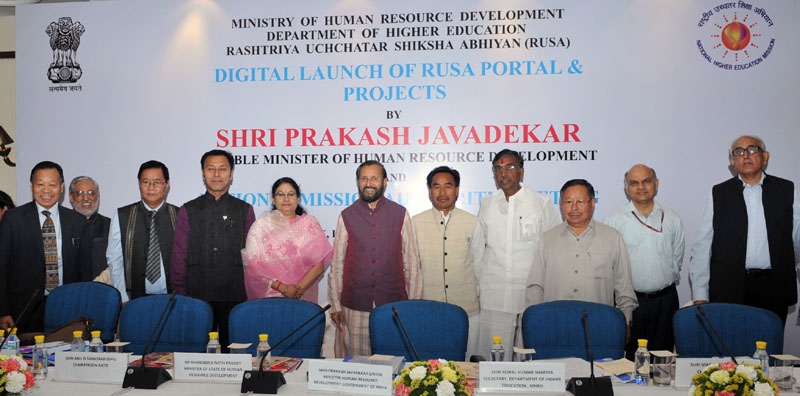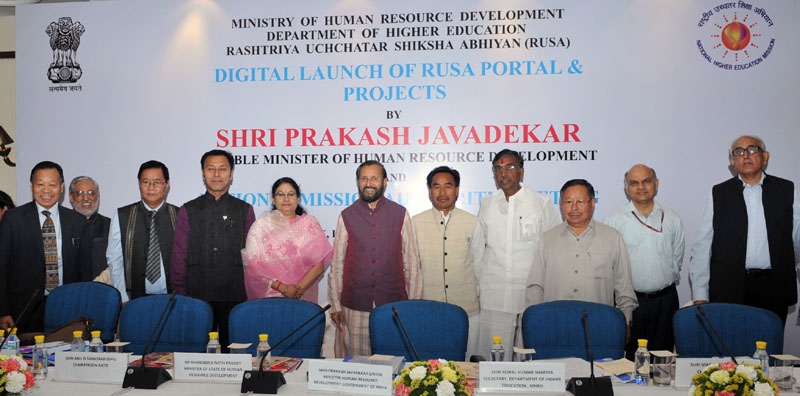 This Monday, union HRD minister Mr. Prakash Javadekar launched 17 major infrastructural projects completed by 17 Indian universities. They were initially sanctioned to the universities under RUSA (Rashtriya Uchchatar Shiksha Abhiyan) or National campaign for higher education. The projects were launched on RUSA's digital platform. It's a matter of pride for Rajasthan that Udaipur's MLSU (Mohanlal Sukhadia University) was one of these universities to have completed the tasks allotted in the first phase.
Rajasthan Contributes its Bit in RUSA Infrastructure Project…
For those who don't know, Rajasthan is one of the first Indian states to observe an IT (Information Technology) Day. Stressing on the use of digital technologies Rajasthan CM Vasundhara Raje introduced 'Bhamashah Card' the first digital platform to ensure complete transparency in government transactions. Now, the desert state is making attempts to connect cities and villages on digital platform. Smart City and Smart Villages are two major infrastructure projects in Rajasthan that will try to rope in more people in creating a progressive, well-connected state.
What is RUSA all About?

RUSA is center's attempt to improve the quality of higher education at college and university level. Knowing that good infrastructure is vital for growth of a city, RUSA aims at enhancing the value of beneficiary institutions by adding more high-tech facilities. Under Rashtriya Uchchatar Shiksha Abhiyan, the center provides strategic funding to selected educational institutes so they can add more facilities to their premises.
The 17 RUSA projects launched in India includes:
Micro ATM facility for intelligence system in Pune University,
A new cluster university at Jammu & Kashmir,
Power facility at Kerala's Shree Shankaracharya University of Sanskrit
Special language laboratories in Jharkand (Ghatsila) and many more.
The initiative was launched in 2013. Since them, approximately 2,000 colleges and state universities have participated in this scheme. The UTs have given a commendable response to this project.
Rajasthan's Wondrous Performance in this Category didn't Surprise Us!
Rajasthan that has shown tremendous improvement in education sector, performed well in RUSA category, as well. A total of Rs 357 crores were sanctioned for Rajasthan under RUSA. Udaipur's Mohanlal Sukhadia University was sanctioned Rs 20 crore for infrastructure development. They received the first installment (Rs. 5 crore) last year. This money was invested in smart classrooms, toilet blocks in science, art and commerce colleges whereas the law colleges received a new seminar hall and moot courtroom. Rs. 7 crore was spent in renovation and construction whereas Rs 6 crore were spent on employing superior equipment.
They'll utilize the outstanding amount to improve their existing infrastructure. MLSU's affiliated colleges organized a live webinar to showcase their infrastructure projects this Monday.
The best part about this scheme is that all colleges and universities falling under the RUSA scheme are well-connected on their portal and mobile application. They're geo-tagged for timely monitoring. Vigilance by authorities is the major reason behind the outstanding success of this scheme.
In future, other universities in Rajasthan will benefit from RUSA's initiative.