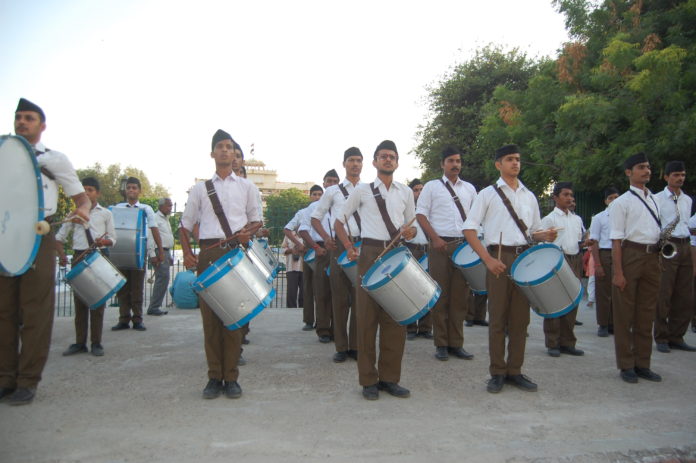 The Swar Govind Samaroh event was organized in the Chitrakoot Stadium of Vaishali Nagar, Jaipur on Sunday. The entire area was seen decorated with saffron flags and rangolis drawn along the 6-km long route. The event was hosted by RSS (Rashtriya Seva Sangh) and attended by a huge crowd of women and children.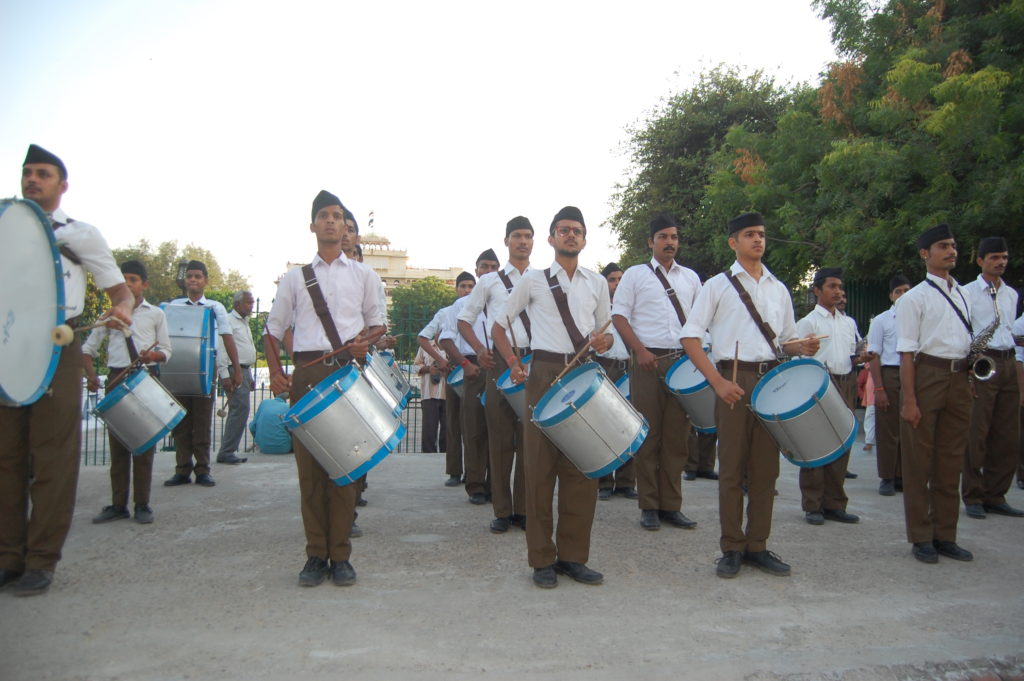 Image Courtesy: vskjaipur.org
The main element of the event was a band march by the Ghosh Vadaks of RSS which kept the audience entertained for hours. The band marched on two routes namely Shyam Nagar-Chitrakoot and Rajendra Nagar-Chitrakoot. Not only the crowd cheered them with a huge round of applause but the local residents even greeted them by sprinkling rose water and throwing flowers.
For the preparations of the march past organized under the Swar Govind Samaroh, the entire route for the march past was decorated with colorful rangolis along the 6-km long distance. It was drawn by women members are volunteers of Rashtra Sevika Samiti. Later, the music band marched along the 6 km path to reach the venue.
This concluding event was attended by RSS Chief Mohan Bhagwat, who addressed the Sangh members as well as volunteers. Here, he talked about removing untouchability and eradicating inequality. He also honored martyrs' widows Kanta Yadav, Nisha Lal, Sampat Kanwar, and Sumitra Devi alongside the martyrs' mothers Laxmi Devi Bundela and Merry Kutti Thomas, with a shawl, a citation, and a gift.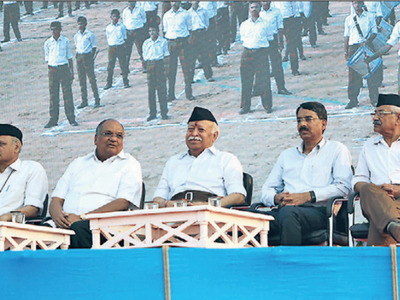 Image Courtesy: Times of India
Mr. Bhagwat pointed out as to how the idea was picked up from other countries but Indian classical music was used to prepare some unique tunes. He laid emphasis on classical music and how it's different from the western music.
After that, he also pointed out that such music can help in reinforcing unity, discipline, and equality. Another highlight of his speech was the reiteration of the RSS ideology.