Sachin Pilot is trying to grab a lot of attention from the media and the public by hitting out the opposition and narrating big statements. Just yesterday, Sachin Pilot came out not for development but criticising the incumbent government.
At a recent rally in Jaipur on Monday, he said, "For four years, the BJP was sleeping. Today, when the elections are near, they are making announcements about MSP but procurement is not happening at MSP Price. Farmers are in distress, farmers are committing suicide, Petrol-diesel is sky-high, unemployment is rampant. People are fed up with the BJP Government, Vasundhara ji's Government is one of the most unpopular Governments in the history of Rajasthan. She is bound to go, she is using desperate measures to boost her image using the Government money which we oppose."
If reports are to be believed, Sachin Pilot excels at the art of interchanging words and crying the same story everytime he lashes out at the current government. Considering that he only has limited points of criticism, he keeps switching his words to be able to influence the Aam Aadmi, but in the long run, it is only the truth which is bought.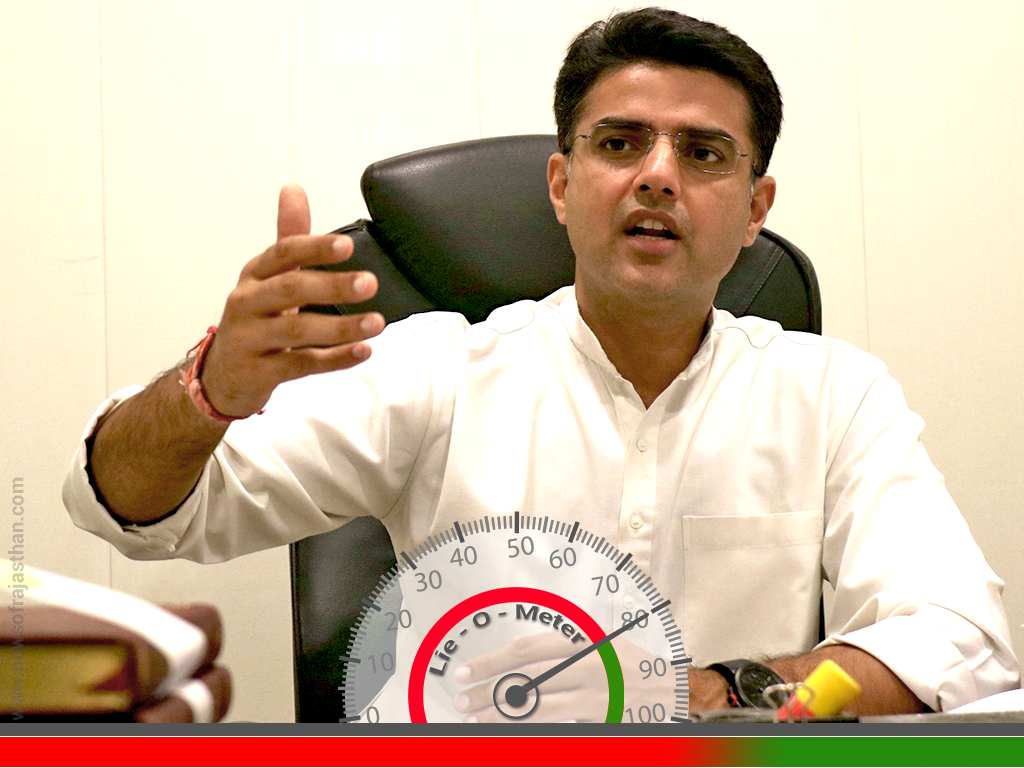 What is the truth?
MSP prices – The Rajasthan government will purchase wheat at the minimum support price (MSP) of ₹1,735 for every quintal during the Rabi marketing season in 2018-19.
Farmer's loans – Vasundhara Raje announced one-time crop loan waiver of up to Rs 50,000 for small and marginal farmers and land revenue exemption. This will cost Rs 8,000 crore to the state exchequer.
Petrol prices – In the current scenario, petrol prices are skyrocketing across the world, leading to the global slowdown. The Rajasthan government or a Madhya Pradesh government, for that matter, cannot be held responsible for a global slowdown. Yes, measures can be put in place to save oil. Sachin Pilot too could have saved oodles of petrol which gets wasted when he drives down to his rallies in different cities, with an aim to win vote banks. But…
Unemployment – The BJP government has created over 15 lakh employment and entrepreneurship opportunities for the youth of the state, out of which 1.80 lakh were government jobs. Training has been imparted to 2,60,000 individuals under the Ajivika and Kaushal Vikas Yojana.
The public can never be fed up with growth and development. The public is fed up of hearing lies and fabricated stories of people. The public is intelligent. They understand the truth, see the reality, assess it and then make a decision. The voting decision is driven from what the public sees themselves, and not what they are made to believe. Growth is the decisive factor.
No Growth, No Votes.