Recently, the Pink City's Chandni Chowk located near City Palace came alive with beautifully painted lanterns during the annual event of Rang Malhar. This event is organized to appease Rain God and welcome the Monsoon season with great joy and fervor.
On the occasion, around 100 individuals belonging to different age groups gathered and painted lanterns so as to welcome the rainy season. The participants turned new as well as antique lanterns into pieces of artwork with their brush strokes. They were given full freedom to express their artistic side; while some used oil paint others used papier- mâché.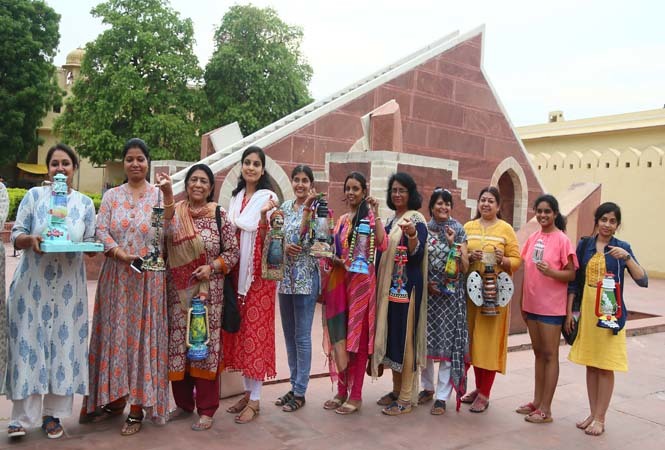 Women posing with their painted lanterns at Jaipur's Jantar Mantar (Courtesy: ToI)
This was the 9th edition of Rang Malhar based on the theme of Lanterns. The earlier editions have already witnessed cars, umbrellas, hats, and cycles as muses for the participants to paint their hearts out. The event was organized in 13 districts whereby more than 1000 artists came together and presented their creativity on lanterns that were at least 100-175 years old.
The participants used their creative freedom and decorated their respective lanterns using various subjects. Some gave the message of preserving nature while some drew beautiful floral designs on their muse.
of the participants named Sheela Purohitnot just painted her lantern but also created a figurine of Lord Indra and placed it inside the lantern. She said that it was the best way to appease Rain God i.e. Lord Indra and ask him to bless the city with rains. Another artist Manish Sharma painted his lantern with Lord Jagannath's chariot citing that it's the time when Jagannath Yatra takes place.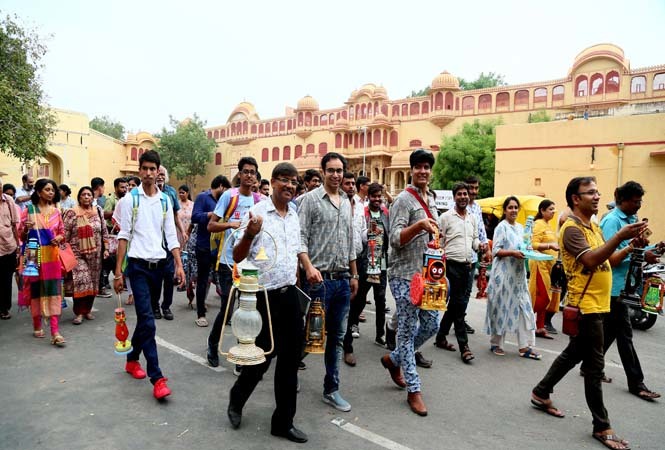 People Taking Part in Procession with their painted lanterns (Courtesy: ToI)
After painting their lanterns with creative patterns and colors in different styles in the day-long workshop, the participants also took out a procession in the Old Jaleb Chowk and passed the Jantar Mantar Observatory.  Interestingly, the term Rang Malhar is a modified form of the term Raag Malhar which is sung to call rains. Whether it's the brightness of the colors or the sound of music, art is beautiful in every form and is closely connected to nature.