Rajasthan is reportedly going to meet the target of 50 Million tourists by the end of this year, a target which was set for the year 2020. As per the Rajasthan Tourism Director Pradeep Kumar Borar, the state had already received 47 Million tourists by the end of 2017. The revelation was made during a press conference organized by the Rajasthan Domestic Travel Mart.
The Travel Mart is going to be organized from July 20 to July 22. While Hotel Clarks Amer will host the inaugural session on July 20, it will be followed by pre-scheduled business-to-business meetings on July 21 and July 22 at BM Birla Convention Centre.
According to the board, the desert state has witnessed a growth in the domestic and foreign tourists in the first quarter of 2018. Besides, the occupancy rate in the hotel industry was almost 65% in the year 2016-17. In addition, the luxury train service tagged as the Palace on Wheels has registered occupancy of over 60%.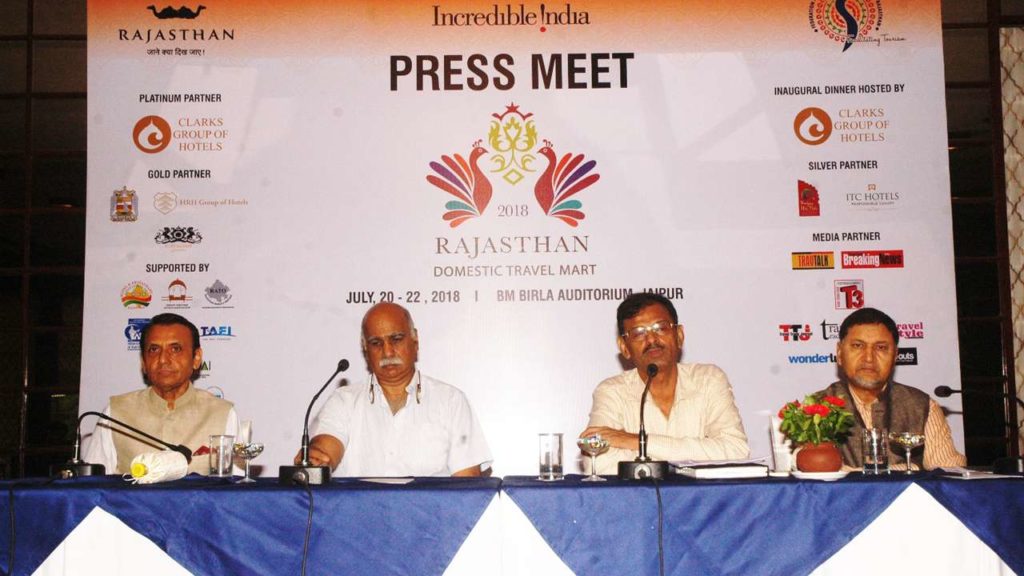 A press conference organized by the Rajasthan Domestic Travel Mart
(Image Courtesy: DNA India)
Moving on, the Senior Vice President, Federation of Hospitality and Tourism of Rajasthan (FHTR) Randhir Vikram Singh told the media that the mega event will be attended by 200 domestic tour operators and travel writers from 29 states and 7 Union Territories.
Furthermore, the Rajasthan Domestic Travel Mart 2018 will host around 69,000 pre-scheduled and structured B2B meetings in two days. The event will be focused on developing and promoting the lesser known destinations like Shekhawati, Bikaner, Khimsar, Luni, Jaisalmer, and Kumbalgarh.
The Domestic Mart will be one-of-a-kind event that will be carried out with support from several industry associations of Rajasthan like Hotel & Restaurant Association of Rajasthan, Indian Heritage Hotels Association, and Rajasthan Association of Tour Operators and National Associations.