The Rajasthan Royals players got themselves screened at Sawai Man Singh Hospital in Pink City under the Cancer out Campaign. The team will be donning the pink jersey in their match against Chennai Super Kings on Friday so as to raise awareness about early cancer screening. Royals skipper Ajinkya Rahane along with players Heinrich Klaasen, Krishnappa Gowtham, and Mahipal Lomror were present for the screening, as part of the campaign.
For this match on Friday, special jerseys have been designed with the blend of three shades-pink, teal, and burgundy. These colors signify different ailments i.e. pink for breast cancer, teal for cervical cancer, and burgundy for oral cancer. The 'Cancer Out Campaign' promoted by the Royals is a joint effort of the state government, National Cancer Grid, Indian Cancer Society, and Indian Dental Association in Rajasthan.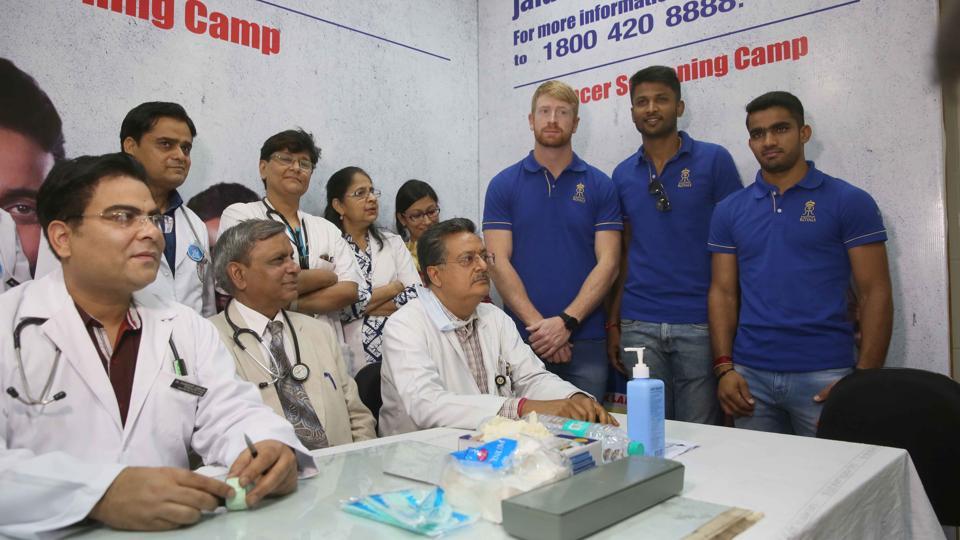 Rajasthan Royals Players at SMS Hospital in Jaipur (Courtesy: Hindustan Times)
In a statement, skipper Ajinkya Rahane said that it's a small but crucial step towards making a cancer-free society. He also urged the Rajasthan Royals fans to take the responsibility of educating each other and promoting an early screening of cancer.
As revealed by SMS Medical College Principal Dr. US Agarwal, Rajasthan stands at sixth position with regard to cancer incidents. The figures suggest that nearly 1 Lakh patients visit the OPD in a year out of which 23,000 are admitted while 5000 to 6000 of them undergo surgeries at the SMS Hospital.
Ideally, a person must get himself/herself screened for cancer on an annual basis. Doctors suggest that an early screening increases the chances of getting cured. Sadly in India, 80% of people visit the hospital at the last stage of cancer and it becomes difficult for the doctors to cure them. Although it cannot be stopped if detected at an early age, the effects can be reduced to a considerable level.