After 4 successful editions of DigiFest, Rajasthan is hosting the 5th edition of the event at Bikaner to celebrate innovation and technology. The fest is being organized with several events that are aimed at giving startups, individuals, students, and innovators a platform where they can explore potential partnerships.
It's a three-day event that has been scheduled to take place from 25th July to 27th July with several workshops and talks that will be carried out in parallel tracks. Besides, experts like tech tycoons, startup founders, and business leaders will share their valuable share of knowledge.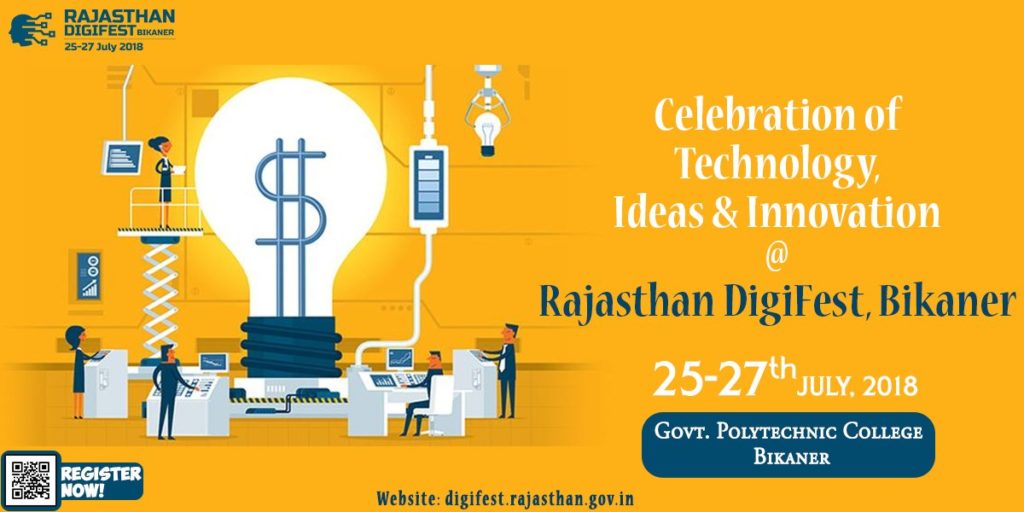 Courtesy: Twitter
The events that will be a part of the Rajasthan DigiFest 5.0 are:
International Balloon Challenge
Shortlisted candidates will get a chance to launch their payload into near space from the desert ground of Bikaner. Those who are able to complete their mission timely will be acknowledged by the state government on July 27.
TecRush
It has been designed to provide an amalgamation of sports, technology, and entertainment- all at one place. In this people from different age groups will be able to participate in more than 50 activities across 4 zones and there will be over 5000 awards for the winners.
Hackathon 5.0
It will be a 24-hour non-stop coding marathon providing a platform to the designers, coders, and developers to derive innovative solutions and winners will get a chance to work with the Rajasthan government. The themes will include Bhamashah, e-Mitra, AI, IoT, AR/VR, the blockchain, machine learning, data warehouse, and data mobility.
Exhibition
It will be a technology exposition for tech wizards, students, and technology enthusiasts whereby innovative products will be exhibited as a part of the DigiFest.
Job Fair
There is going to be a 2-day mega job fair that will see the participation of more than 150 companies from fields like banking, retail, manufacturing, pharmacy, etc. Employers including Vodafone, IBM, Genpact, Axis Bank, AU Small Finance Bank, Infosys, and Wipro will be a part of the job fair.
E-mitra Hackathon
It will be a 6-hour long activity whereby the e-Mitra owners will be pitching their ideas as to how to enhance the usage of e-Mitra services using electronic media. It will include developing a module, guide, or video tutorials to make the e-Mitra services more accessible.
Green-a-Thon
In this 24-hour long coding contest, the participants will come up with solutions for making the world more sustainable. They will introduce ingenious solutions related to sustainable energy and environmental issues.
EduHack
It's a collaborative environment for the participants to enable them to pitch out-of-the-box ideas and extraordinary solutions in the form of an algorithm, new teaching methods, learning software, etc.
Startup Fest
There will be several panel discussions on knowledge sharing and educational sessions by experts from various fields. The panel will have business leaders, corporate tycoons, government change makers, startup players and tech mavericks who will share their experience and views on entrepreneurship.
For more details, visit the site: https://change.rajasthan.gov.in/