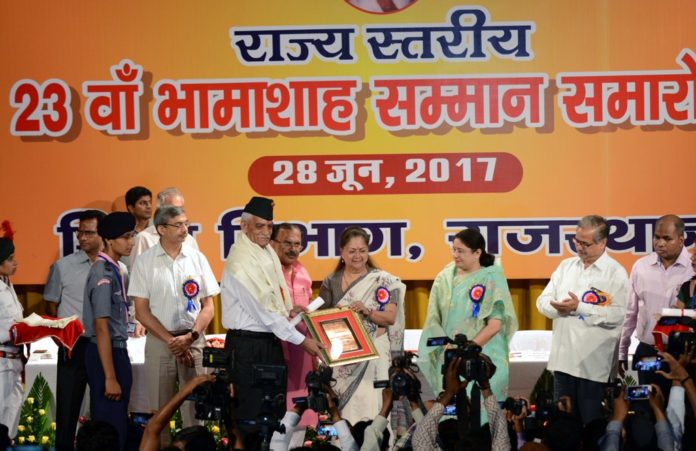 Rajasthan chief minister Vasundhara Raje Applauds Local Philanthropists for their Notable Contribution to the Education Sector in a Ceremony held at Birla Auditorium, Jaipur…
Educating children is the noblest of all charities in the world, as children build up a bright future for our country. Leaving behind the tag of a 'BIMARU' nation, Rajasthan has made commendable progress in the field of education. Whether it's a sudden hike in the enrollments or introduction of smart classrooms within schools, the state has accomplished several milestones—milestones that have opened up better career prospects for children studying in government schools. All this was made possible by public contribution, which is why Rajasthan government decided to felicitate the local 'preraks' (volunteers) and 'Bhamashahs' at the 23rd Bhamashah Award ceremony held in Jaipur's Birla Auditorium this week.
Expressing her gratitude towards all those who've helped educate children, CM Raje felicitated 31 volunteers and 109 philanthropists (or Bhamashahs) who've contributed a sum worth Rs 62.32 crores for modification of education system in Rajasthan.
With these donations, the government was able to set up new and better schools: Adarsh Vidyalaya and Utkrisht Vidyalaya with smart classrooms. The concept of education portal, NCERT apps, and Parent teachers meeting was introduced in the schools for uplifting the pathetic status of the education system. The government made arrangements for light, clean drinking water, labs and computer rooms, with the help of these Bhamashahs.
All these efforts and contributions reflect on the results of students. Today, Rajasthan contributes a fair share of toppers to premium engineering and medical science colleges. The students from various streams—art, commerce, and science have secured good marks in board examinations. Not only this, more than 12 lakh students have transferred from private to the government schools.
Considering these positive outcomes, the government decided to felicitate the contributors, to motivate them to keep up with their noble efforts.