Rajasthan Assembly polls are soon going to be scheduled and all political parties have geared into action mode. Talking about the ruling party BJP, it has already planned Gaurav Yatra program to highlight the achievements of the state government in the last 4 years. Apart from CM Raje, party's National President Amit Shah is also going to monitor the electoral work of Rajasthan.
Reportedly, Amit Shah alongside other senior party leaders will monitor the election works from Madhya Pradesh's Bhopal. Owing to the upcoming Assembly elections in Rajasthan, Madhya Pradesh, and Chhattisgarh, Shah is going to hold regular camps for all these states.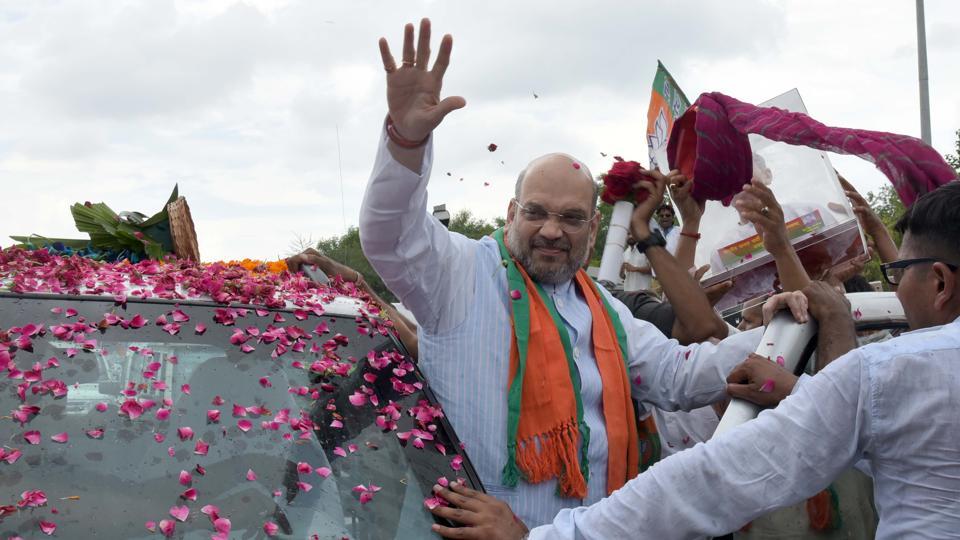 BJP National President Amit Shah during a political procession
If reports are to be believed, BJP is going to set up a war room in Chhattisgarh and Rajasthan and both these will be controlled by a war room in Bhopal. Although the Party President will camp for 3-5 days in Rajasthan, he will be spending most of the time at Bhopal's war room.
Shah is likely to pay a visit to the once BJP selects its state Party President, something that is quite crucial for the upcoming polls. Since Ashok Parnami resigned from the post on April 18, the saffron party has been trying to zero in a new candidate for the same but apparently, no name has been confirmed as of now.
Talking about Gaurav Yatra, it's a public outreach drive whereby leaders have been assigned the task of visiting all 7 poll-bound divisions of the state. These leaders would touring throughout the districts and would interact with the public so as to make them aware of the policies and development projects helmed by the state government.