The Public Cycle Sharing Plan, an environment-friendly project has been finally launched in Jaipur by Urban development and housing (UDH) minister Shrichand Kriplani and Mayor Ashok Lahoti. The project aims to promote an eco-friendly transport system for the residents and tourists. Although the project was concluded two months ago, the inauguration got delayed due to unknown reasons.
Initiated by the Jaipur Smart City Limited (JSCL) as a part of the smart city project in two locations namely Ram Niwas Bagh and Jawahar Circle, the facility will now be extended to 20 more locations across the city which is believed to be carried out in a phased manner.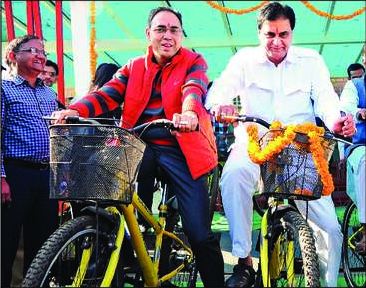 Jaipur Mayor Ashok Lahoti and UDH Minister Shrichand Kriplani
(Source: Times News Network)
At every station, there will be 20 cycles which can be availed between 6:30 am to 7 pm. Users will be able to rent these cycles for INR 10 per hour. However, in order to ensure the security aspect, the rental facility will only be provided after a detailed verification of the user.
In order to hire a cycle on rent, a user will have to download a mobile app and will also be needed to present an Aadhar card or passport for authentication. The location of the commuter will be tracked on the map through the software at the control room at the Greenolution's office.
The entire cost of the project is estimated to be around INR 1.10 Crores, whereby JSCL is bearing INR 5.5 Lakhs for one dock station. As the project will be operated and maintained through advertising, it is expected to fetch INR 3 Crores to the authority.
It's believed that the project will be quite successful in the Pink City as 20% of the population of the walled city uses cycle as a mode of transport. Ultimately this would also help in bringing down the traffic congestion. Soon after the launch of the cycle sharing project, JSCL also introduced smart toilets, which will be functional at 30 locations across the city.