Since the launch of protest by farmers of Nindar village in Rajasthan, the movement is taking new shape every day. Recently, on the occasion of Gandhi Jayanti i.e. 2 october, this protest intensified as 22 farmers launched the 'zameen samadhi' satyagrah. Zameen samadhi' satyagrah is an attempt to draw the attention of state government. Under this protest, farmers bury themselves under earth with only heads out for indefinite period.
This protest broke out as a result of land dispute between Jaipur Development Authority (JDA) and farmers of Nindar village in Jaipur. As JDA planned to acquire lands of farmers of Nindar village so farmers led this satyagrah for de-acquisition of their land.
Nagendra Singh Shekhawat, the coordinator of Ninder Bachao Kisan Yuva Samiti, "We will die but not give up our lands for the JDA's housing society," Shekhawat added. Protesters would only come out of pit to take nature's call, and will stay day and night in it on satyagrah mode. Mr. Nagendra also said that they would continue this strike till the time their demands get fulfilled.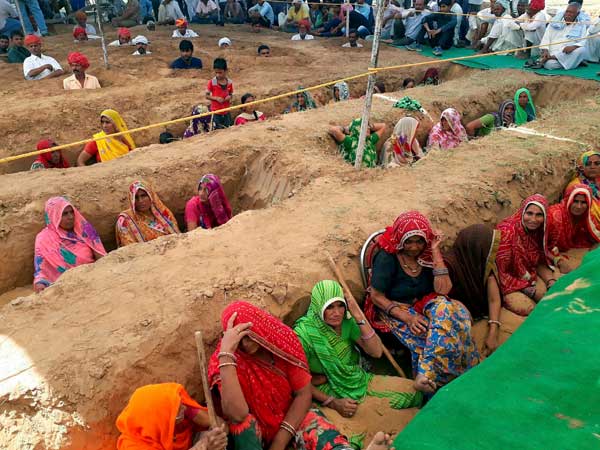 For developing the housing scheme, the Jaipur Development Authority (JDA) had planned to acquire 1,300 bighas of farmers' land. Total possession by JDA is 600 bighas located in the scheme. Even JDA has also deposited Rs 60 crore in the court for the acquired land. This scheme was announced by JDA in January 2011. It is JDA's second-largest housing scheme.