Prime Minister Narendra Modi encouraged BJP party workers through video conferencing on NaMo app on Thursday. It is PM Modi's address to Jaipur BJP party workers through direct video conferencing. Prime Minister Modi said, 'the BJP's biggest strength is its party workers.' 'Their hard work has ensured the party's historic success and progress in a short span of four years.' PM added.
PM Modi was addressing party workers of five Lok Sabha constituencies- Jaipur (Rural), Ghaziabad (UP), Arunachal west (Arunachal Pradesh), Nawada (Bihar), Hazaribagh (Uttarakhand).
Modi took a dig at opposition parties who are stitching an alliance for the 2019 elections. PM said that he is confident that BJP will win the 2019 elections. He said, 'the wind is blowing in favor of the BJP, even stronger than what it was in 2014. That is why opposition parties are holding each other's hands to save themselves from being blown away.'
Modi gives success mantra to party workers for 2019 elections
PM Modi urged the party workers to follow the mantra of 'Mera Booth Sabse Mazboot' (My polling booth strongest) to ensure thumping victory yet again. PM Modi called up the constituency workers to win the election for the sake of the country. Modi said, 'Look at Bharat Mata and win the election to continue serving her.'
The prime minister attributed the party's success to its workers and their grip over their respective polling booths. 'Mera Booth Sabse Mazboot' is the only mantra and this is our strength.' PM said in the video interaction.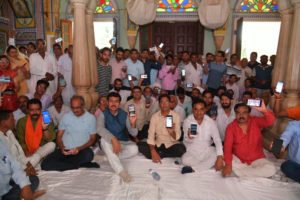 PM also urged party workers to continuously interact with voters of their respective constituencies. He also advised ensuring that at least 20 families and youth are working with the party in every polling booth.
Read more: श्रमिकों के बच्चों को मुफ्त में आईटीआई पढ़ाएगी राजे सरकार
PM feels pity for dedicated Congress party workers  

                                 
The prime minister lashed out at the Congress, calling it a one family party. PM said, 'Many capable and committed workers of the Congress who sacrificed themselves for the interests of one family. I feel pity for the dedicated party workers of the Congress.'
'The opposition is resorting to lies in its campaign but today people in the country are awake while the opposition is not ready to come out of its slumber.' Prime minister said while slamming opposition. PM Modi said that only in the BJP can an ordinary party worker go on to become its leader. Furthermore, PM asserted that someone else can also take his place tomorrow.
Besides this, Prime Minister Modi was nominated as the BJP's prime ministerial candidate on 13 September 13, 2013. The BJP party workers greeted PM Modi on the anniversary during the video interaction.