To fulfill the dream of making Jaipur smart city, City of Adelaide in South Australia and Jaipur Development Authority (JDA) have entered into a Memorandum of Understanding (MoU). The aim of this collaboration is to share learning for the development of smart city. In fact, Rajasthan state has got four smart cities including Jaipur under smart city project by government of India.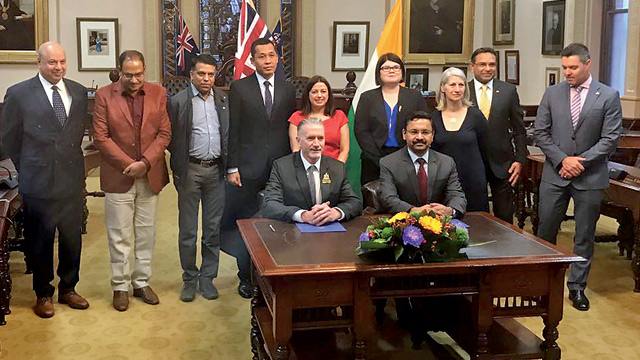 When the government of India included Jaipur in the list of smart city, Government of Rajasthan has also started making efforts for growth. On 12 March 2016, Rajasthan government has formed special purpose vehicle called Jaipur smart city limit. Now, this collaboration with City of Adelaide in South Australia is a new attempt. It is expected that Jaipur will learn from Australia about designs and structures of the smart parking and street lighting.
However, the Authorities from Adelaide and Jaipur have been in discussion over collaboration for nearly a year. MoU was inked on Monday which was the first day of JDA officials five-day foreign tour. The team is led by Jaipur development commissioner Vaibhav Galariya.
The development officials of JDA are also looking forward to the partnership. They have also expected to learn from the experiences of Adelaide in this direction. Adelaide is among the foremost cities of the world to implement information technology based solution for civic and health issues.
"This is the next step in building a prosperous relationship between the two cities that will deliver real benefits for our respective communities," said Natasha Malani Councillor of Adelaide.
The Jaipur Development Authority representative group will be visiting smart cities of Adelaide and Singapore as the teams have two days programmes scheduled at each of these cities. Their visit also aims to strengthen ties between the state governments of Rajasthan and South Australia, as sister states.
Apart from development of smart city, MoU between Adelaide and Jaipur also proposes opportunity for aspiring entrepreneurs and start-up ventures. Adelaide has developed IT solutions for functions ranging from waste management to traffic management. An adaptation of this in Jaipur will require such IT solutions to be developed in accordance to local requirement and will also have scope to invite collaboration with start-up projects.