In a first of its kind move, Rajasthan government intensified its fight against menstruation this month. Period pain, heavy bleeding, discomfort and red spots? No more! Barmer district administration has braced itself up to provide relief from period problems at school. Health officers have installed sanitary napkin vending machines at 13 'all-girls' schools in Barmer. The next time you forget your pads in a hurry, you can get it from the sanitary napkin ATMs.
School girls can buy a pack of three pads for Rs 10. The move provides respite to the shy girls who are too embarrassed to ask others for help during 'those days.'
According to Mr. Shivprasad Nakate, Barmer District collector, the department installed handy 'sanitary napkin ATMs' under PM Narendra Modi's Swachh Bharat Mission. The schools covered under this sanitary campaign include senior secondary schools in Samdadi, Siwana, Bayatu, Chauhatan, Gadra Road, Ramsar, Dhorimanna, Patidu, Kawas, Pachpadra, Sindhari, and Sheo.
Quick Tips on Using Sanitary Napkin ATMs in School
If a girl gets periods during school hours, she can use the sanitary napkin ATM, located on the campus. Submit Rs 10 and press a button. The machine will automatically release a packet of pads from its slot to the user.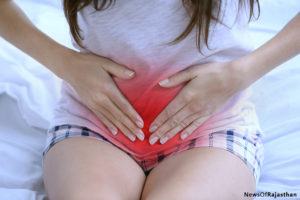 For those who don't know, these pad ATMs are a joint venture of Rajasthan government with HLL Lifecare, an Indian government enterprise. After several years of research, the company prepared 'happy days sanitary napkins' for ATMs in schools. Their napkins are easy to use and cheaper than other commercial products sold by big brands in India.
According to Pushpendra Singh Sodha (District Project Coordinator for Swachh Bharat Mission), the project directors have laid out detailed instructions on using these ATMs to the school staff.
Just recently, Navlaram Choudhary (Barmer Panchayat Samiti Development Office) visited the ATM installed at government girl's secondary school at Kawas. So far, both teachers and students are happy with this decision.