The festivity of nine days of Navratri is reaching to the conclusion. This year, Shardiya Navratri begins on 10th October, 2018 and will be ending on 18th October. During these nine days of Navratri, people worship Maa Durga and her nine forms. They observe fasts and perform hawans and organize bhandaras. Today, it is the eight day of Shardiya Navratri i.e. Durgashtami. On every day of Navratri, one form of Durga is worshipped. Durgashtami is associated with Goddess Maha Gauri. See the importance of Durgashtami and virtues of MahaGauri. Know more.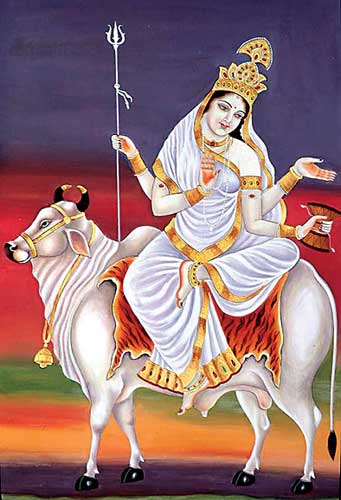 Know about goddess MahaGauri and her virtues
As per Hindu mythology, MahaGauri worshipped rigourously to marry Lord Shiva. Due to her austere prayers, she turned black. But when Lord Shiva appeared, her skin turns extremely white. Due to this, she began to be worshipped as Gauri. Discussing her characteristics, she wears white clothes and seated on white bull. She is calm and cool in nature and unmarried girls worship her to get desired husband. The one who worships the goddess gets relief from all the sufferings in life.
Know the all forms of Maa Durga worshipped during Navratri
Shailputri
Brahmacharini
Chandraghanta
Kushmanda
Skanda Mata
Katyayani
Kalaratri
MahaGauri
Siddhidatri
Importance of Durgashtami
There is also tradition of kanya poojan during Navratri. It is believed that girls are form of goddess and revering them during Navratri pleases her. Durgashtami is very significant and the most auspicious for Kanya Poojan.