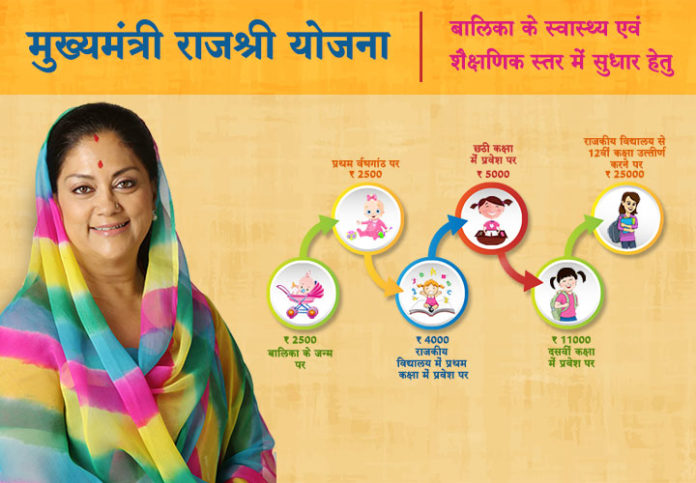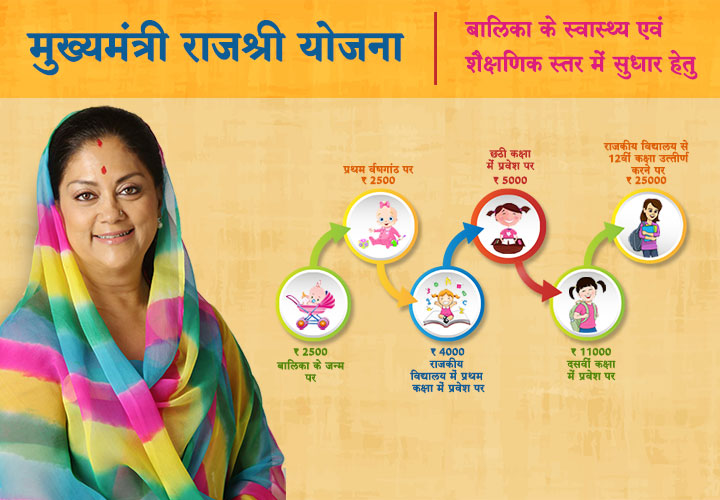 Our daughters are avatars of goddess Lakshmi in a literal manner now as a daughter arrives with Mukhyamantri Rajshree Yojana eligibility. This Yojana helps her parents for her upbringing and managing her educational and financial requirements. Rajshree Yojana is a flagship scheme of Vasundhara Raje government in a bid to balance the gender ratio in Rajasthan. Among various development plans, Rajshree Yojana is the one which is already helping our daughters to live their dreams.
Gone are the days when daughters are considered as a burden. People used to celebrate for male childbirth but opposite in the girl childbirth. Basically, it's a matter of mindsets that parents have to spend a big amount of income on daughters for their upbringing, marriage, and dowry. This mindset led the scenario to female foeticide, abandoning girl child and ended up with the gender ratio imbalance. CM Raje took a pledge to improve this ratio and helping the girl child to be born and live her dreams.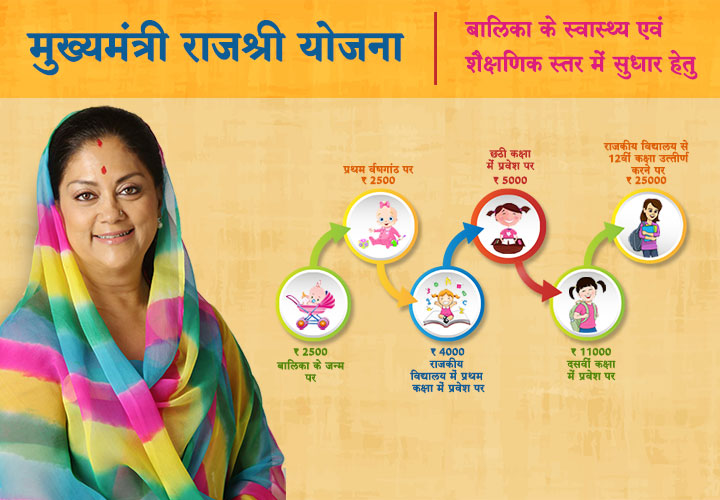 What Rajshree Yojana has to offer?
Under this plan, the government provides financial help to a girl's guardians. Total 50,000 rupees are being credited during different stages of a girl's life.
 2500 rupees on girl childbirth.
 2500 rupees during 1 st year vaccination.
 4000 rupees on her first school admission.
 5000 rupees when she reaches 6th standard.
 11000 rupees for girl's 10th standard.
 25000 rupees for passing 12th class.
Bhamashah Card plays a key role
Bhamashah scheme is one of the biggest successes of BJP government's welfare plans. Bhamashah card is mandatory to receive Rajshree Yojana benefits and other scheme benefits as well.
 Under Rajshree scheme money will be credited to Bhamashah bank account.
 To extract benefits, Bhamashah card holder pregnant woman has to register at the nearest Anganbadi centre or a government hospital.
 If the mother-to-be does not have a Bhamashah account, she needs to register at nearest e-Mitra center.
A Long list of Rajshree scheme beneficiaries
Mukhyamantri Rajshree Yojana has provided approximately 76.65 crore rupees to total help through more than 3 Lac transactions. This graph is rising on daily basis.
Thousands of girls received benefits through the scheme. Not only Rajshree Yojana, CM Raje planned various welfare schemes like distributing cycles, scooty, laptops, and fellowship programs to girl students. Being a woman CM Raje understands the hassles in a woman's life, so she has been continuously working for women. Now the girl is no longer a burden for her parents. She's got wings to fly into the infinite sky.