Manvendra Singh who is the son of Jaswant Singh, former union minister and once a BJP stalwart, has joined the Congress on Wednesday. Rajyavardhan Singh Rathore, Minister of State for Information & Broadcasting, said that Congress always mistreated Rajputs and Singh fought in against. 'It was BJP who recognized Jaswant Singh's efforts and gave him significant positions at the center. He is one of the BJP stalwarts who had been fighting against Congress mindset.' Rathore added.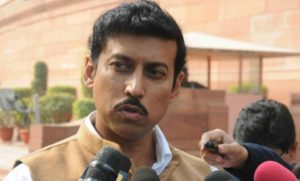 Rathore said that the BJP recognized Jaswant Singh and his family's talent and nurtured it well. He has questioned Congress's attitude towards Rajputs and described Manvendra Singh joining the party as a personal reason.
Further, Rathore said that Manvendra Singhs' reasons to quit the Bharatiya Janata Party (BJP) and join the Congress were both personal and public. Rathore said
The Congress vs Rajput history
Minister Rathore also recalled the Congress's former attitude towards the Rajputs. He said that some prominent Rajput royals such as Hanwant Singh and Pratap Singh died under mysterious circumstances for which many suspect the Congress's role.
Rathore also said the Congress had jailed a great personality like Gayatri Devi. Congress neglected the Rajputs for giving membership in the party. 'The Congress could ever take care of Rajputs is unbelievable. Besides, Congress never made any Rajput from Rajasthan a minister at the Centre.' he added.
Rathore strongly dismissed the perception that a section of Rajputs in Rajasthan was upset with the BJP because of a few encounters that killed criminals.
The union minister said that in a land of soldiers, Modi government which carried out surgical strikes was viewed as patriotic and valued. On the other hand, Congress questioned the Army action and dithered on a clear policy on China.
Manvendra Singh, the son of BJP stalwart Jaswant Singh and a lawmaker in Rajasthan, joined the Congress today and soon after, called it a 'difficult decision'. The Congress thought to encash the chance and welcomed Manvendra Singh in the party.