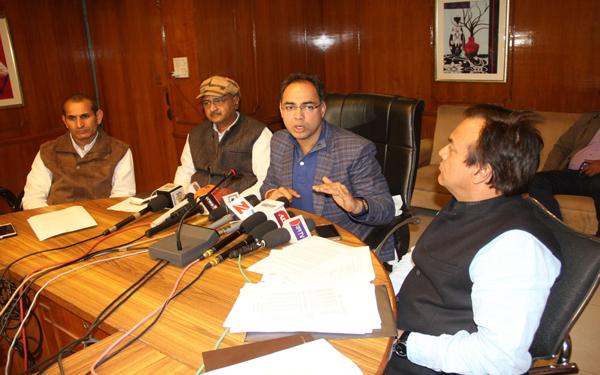 The Mayor of Jaipur, Ashok Lahoti recently announced that all UD tax defaulters will be strictly penalized. His statement has resulted in corresponding actions which are now in full swing.
On Mayor's direction, the Jaipur Municipal Corporation (JMC) carried out a drive against the urban development tax (UD) defaulters in three zones on Thursday.
The JMC bolstered it's recovery and scrutiny process of collecting urban development (UD) tax from all defaulters who have not yet complied with the JMC directives.
According to sources, in Moti Doongri zone the team sealed a vacant plot in Lal Singh Judo Colony as the plot owner has defaulted in the payment of Rs 28.76 lakh. On the same lines, properties of Gurunanak Dev Singh School and Anikta Furniture were sealed they had dues of Rs 5.31 lakh and Rs 4.41 lakh respectively.
The revenue wing became a recipient of recovered amount of Rs 22.62 lakh from defaulters after attaching the properties in Hawa Mahal (West), Moti Doongri and Civil Lines zones. "We have attached properties of nine defaulters out of which, six deposited cheques on the spot," said a senior JMC official.
JMC is working relentlessly towards locating all UD tax defaulters. Once located, JMC approach these defaulters and seek required funds due by faulter.
JMC administration is making every possible effort to earn revenue. It has proposed a budget of Rs 1,715.90 crore for Jaipur per se.
In the budget, JMC plans to allocate Rs 488 crore towards the development and urbanization works in the city. A maximum amount of Rs 110 crore has been doled out for the construction of roads in municipal periphery.
"Development work was not carried out as per the proposal in previous year due to shortage of funds. We are targeting to recover Rs 600 crore from defaulters," said a JMC official.