This year is a Happy Independence Day for countless farmers in Rajasthan that have plenty of fortunes lying ahead. Regardless of being a hot, arid, barren desert state has made considerable progress in the field of agriculture. From producing the first indigenous oil brand of India to flavored olive tea, garlic, oilseeds, and different citrus fruit varieties, Rajasthan has produced a surplus harvest in the last financial year, and we've farmers to thank for it.
But, as India enjoys another year of its freedom, the government of Rajasthan has decided to reward the agriculturists for their hard work. Yesterday, CM Vasundhara Raje made important announcements for farmers at Jaipur's SMS stadium.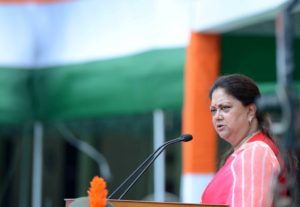 While delivering an encouraging speech for the youth at SMS Stadium yesterday, the CM announced a scheme to disburse low-interest loans worth Rs 200 crores via 'All-women co-operative society' to 3.5 lakh women, in need of financial assistance. Also, the government has decided to encourage farmers for storing their surplus produce in state cooperative godowns. The CM announced the inauguration of 96 storage houses with 100 metric ton capacity under National Farmer's Development Scheme (Rashtriya Krishi Vikas Yojana).
A special bonus was announced for females supplying copious amounts of milk to the state cooperatives. Separately, a special loan scheme with 2% interest rate was announced for farmers under Co-operative farmer welfare scheme.
Further, CM Vasundhara Raje said that farmers having overdue loans to land development banks will get 50% relaxation on outstanding loan installment. Besides, the government has annulled the time limit on applying for agricultural power connections on lands owned by martyr families.
For catering to the food requirements of incoming migrants from nearby villages, the government has introduced Annapurna rasoi yojana. Starting from November 2017, the mobile food vans will serve fresh meals at subsidized meals in all urban localities.
With these developments in progress, Rajasthan farmers will tread on the road towards success!