The royal train Heritage on Wheels is being showcased at the Great Indian Travel Bazaar 2018 held in Jaipur to create a buzz among the tourists and attract travelers on a big scale. The event started on 22nd April and will continue till 24th April aims to promote inbound tourism in this edition.
The Royal Heritage on Wheels reached the Durgapura Railway Station and had 103 passengers on board including foreign travel agents and several officials of the Tourism Ministry and Rajasthan Tourism department. This was the first time that the tour operators were given a ride on the Heritage Palace on Wheels.
Foreign tour operators and key stakeholders arrived at the Durgapura Railway Station, Jaipur, to partake an interactive session on the Heritage Palace on Wheels, the luxury train.#GITB18 #MyRajasthan #JaaneKyaDikhJaye pic.twitter.com/4TBeqkOtce

— Rajasthan Tourism (@my_rajasthan) April 23, 2018
Talking about the Heritage Palace on Wheels, it is the modified version of Palace on Wheels that was launched in December 2017. It's India's very own luxury train that offers an enriching and one-of-a-kind experience to the travelers. It covers some unexplored regions like Bikaner and Shekhawati that possess the Heritage of the state.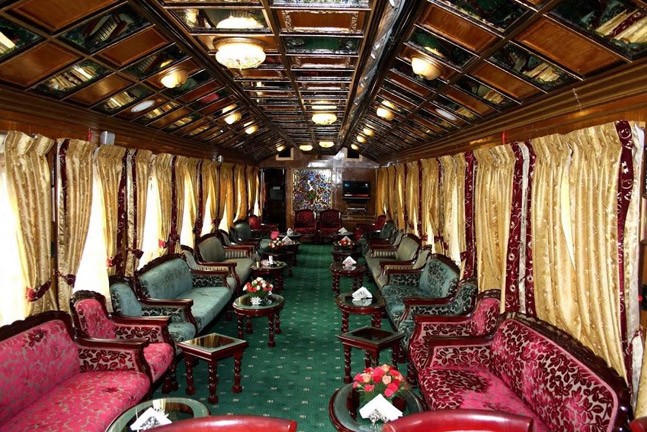 Heritage Palace on Wheels (Interior)
According to the Director of Tourism Pradip Borad, the train is getting a positive feedback and as of now, the response has been nice. Reports suggest that the department has already received 63% bookings this year and by the end of 2019, it could reach the 80% occupancy figure. The Tourism Department is hopeful that the event will help in spreading the word about the luxury train and create a buzz among the travelers.
The department is not just promoting the regal vehicle in India but it also plans to spread the word at international level. Notably, the train was promoted by the officials of the tourism department during the World Travel Mart in London last year and at the International Tourism Course in Germany recently in March.