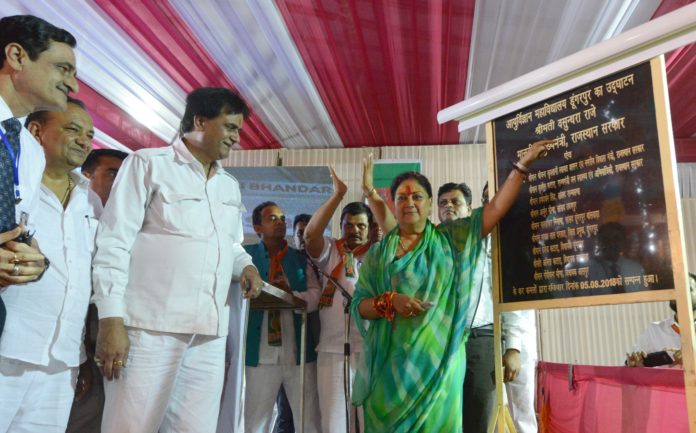 Raj BJP's Rajasthan Gaurav Yatra chariot entered Dungarpur district on the 2nd day. 'Dungarpur showered tremendous love every time I came here. 'Parivartan Yatra' was the first time I came here and then 'Suraj Sankalp Yatra' and now 'Rajasthan Gaurav Yatra', I received love from the Vagad people.'- said CM Vasundhara Raje while addressing thousands of people near Gep Sagar lake in Dungarpur on Sunday.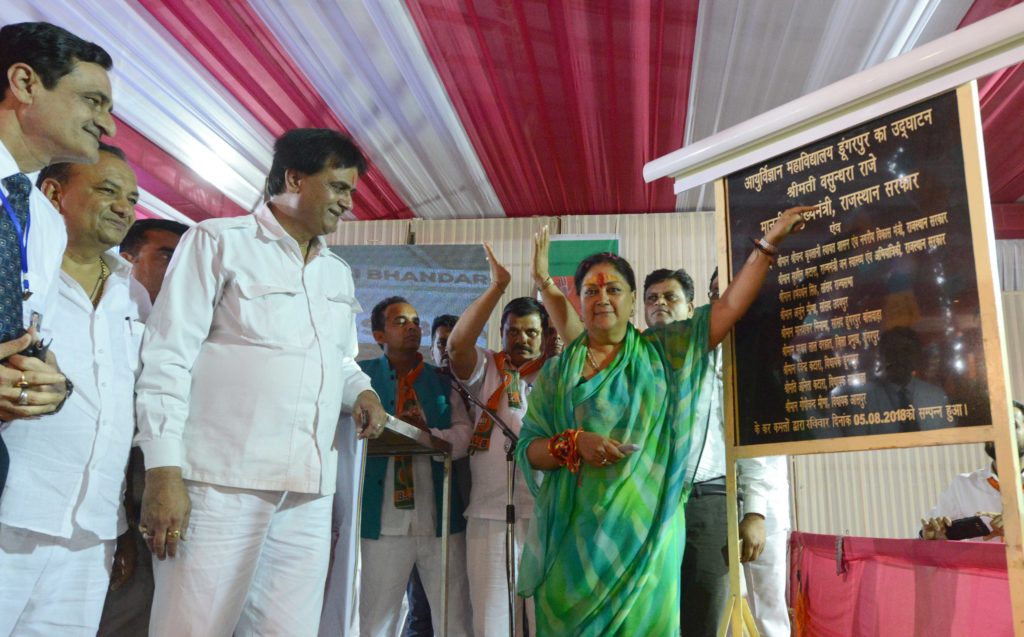 CM Raje said: "Everyone praises that the Dungarpur is now very clean, beautiful and developed like never before."
40 Years of Congress versus 4 Years of BJP
Alluding at developments in four and a half year of tenure, Chief Minister said that Congress failed to do in 40 years, BJP Government has done that in just 4 and a half years. Rajasthan is now on the path of development. Congress set refinery foundation stone just 6 months before elections and then Parwan Irrigation Project. But these projects picked up speed after 2013 when the BJP government took charge. "Here is the government who works, at other fronts a party with the false promises."- said Raje.
CM Inaugurated Medical College in Dungarpur, which is built with the 189 crore rupees budget. CM Raje said, 'Six more medical colleges to be built in the state, which will solve the issue of lacking doctors.' CM further added, before 2013 state was lacking 50% doctors. BJP Government recruited 78thousand doctors and about to recruit 86 thousand doctors. After that only, 2% of vacancies will remain which will soon be filled.
CM Raje Wishes another Thumping Victory
Talking about Gujrat model CM Raje explained that BJPGovernment has been running the state for 20 years and that proves- development needs continuous efforts. In Rajasthan, the Government is facing alternation between BJP andCongress and that affected the development. CM Raje appealed to break this tradition and give BJP a continuous chance for the betterment of state in next five years. After receiving an overwhelming response in the two days of Gaurav Yatra, CM Raje seems sure about party's another thumping victory.
In Dungarpur, thousands of people, supporters and party workers welcomed the Yatra. CM Raje was welcomed by the people with garlands and hail slogans. Raje conveyed details about various welfare schemes during her address and concluded the by sloganeering 'Bhartiya Janta Party zindabad! 'Rajasthan Gaurav Yatra now will run for remaining 37 days till September 30, covering all the 7 divisions of Rajasthan.