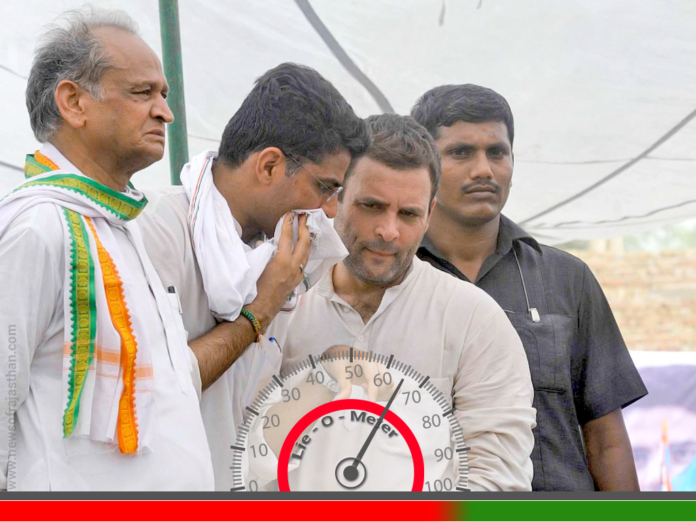 In their revolutionary manifesto, they promised to waive off farm loans within 10 days of winning. They even promised "Ghar-Ghar Rozgar", but yet to decide Chief Minister in Rajasthan. The Congress party has won 100 seats in Rajasthan and in Madhya Pradesh, their seats are 114. Both the states have no clear Chief Minister even after 3 days of poll results.
During the campaign in Rajasthan, AICC chief Ashok Gehlot said that this is Congress's 'tradition' of not declaring CM or PM faces before elections. 'The Congress has never declared a CM Candidate since independence in Rajasthan. Nationally also, we don't normally declare chief ministerial candidates. Sadly, for the first time, the opposition is making it a political issue. In the democracy, people elect MLAs, and after consulting them, the chief ministerial candidate is announced.' Ashok Gehlot said.
Gehlot also said, 'In Rajasthan, there is infighting within the BJP (Bharatiya Janata Party) as they took 75 days to announce a state president.'
Talk about now, the state is witnessing fight and 'anti-incumbency' in the Congress house. They have been struggling over deciding chief minister in Rajasthan and MP. Today, it has been day 3 since the party has won the elections.
Oldie vs Newbie or Rahul vs Party?
Gandhi family has been churning night and day over Ashok Gehlot or Sachin Pilot. Meanwhile, in Rajasthan, supporters of Gehlot and Pilot can be seen fighting with each other, burning tyres, and protesting.
On Wednesday, Rahul Gandhi released an audio message on social media platform, asking party workers for their vote for CM face. Workers cast their votes on social media, but results are yet to come.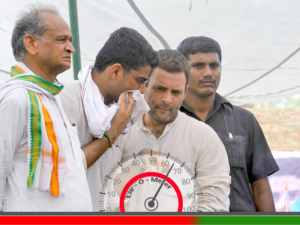 In Rajasthan, Ashok Gehlot possesses a majority, in terms of votes and support. As far as Rahul Gandhi's choice is concerned, it is Sachin Pilot for the throne. On the other hand, the people of the state have been waiting to see the Chief Minister in power so the party can fulfill the great promises they have made in the manifesto. They clearly failing and covering up their lie. Meanwhile, our lie-o-meter recorded 65% of the lie as three days have passed after December 11.
Read more: पायलट को सीएम बनाने की मांग पर समर्थकों ने की तोड़फोड़, नहीं बने तब क्या होगा…