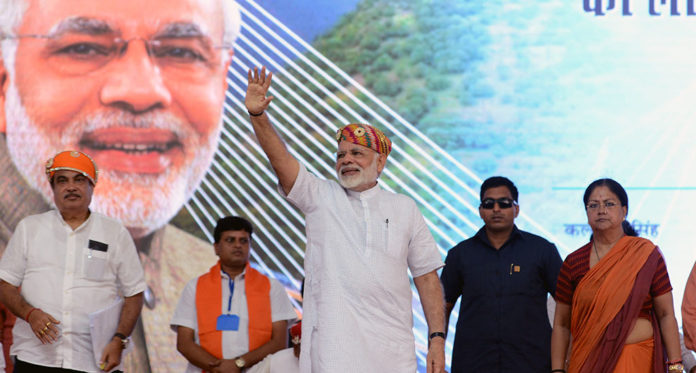 Hon'ble Prime Minister Narendra Modi inaugurated a slew of infrastructure projects and laid foundation for hundreds of other highway projects at Udaipur on Tuesday.
PM Modi launched a record number of projects in India after taking oath in 2013. The humungous project inauguration is a harbinger of immense growth and developmental transformation across the Rajasthan state, something CM Raje is striving for relentlessly.
Inauguration Ceremony
Projects costing Rs 5610 crores were launched by PM Modi including a 6-lane Cable hanging bridge on Chambal River at Kota, 4-lane Gomati Chauraha to Udaipur and 4-lane Rajasmand-Bhilwara National Highway (NH) projects.
He also laid foundation of NH projects worth 9,490 crore rupees including Jaipur Ring Road project with construction cost of 1,668 crore rupees and 4-lane Barr-Bilara-Jodhpur NH costing 1,249 crore.
These projects which formed the fulcrum of PM Modi's visit would engender fresh energy into the desert state and its progressive pace. PM Modi also informed that projects worth Rs 9,500 crore have already been completed in the last three years. "Generally, projects once started, but not finished in time, result in increased construction cost. But this would not happen now and all the works initiated would complete as per the schedule," he said.
The road network was laid in Rajasthan would boost tourism in the state and more employment opportunities would be created," PM Modi added. Additionally, he also expressed gratitude towards the historical icons of 'Veer Bhumi' of Mewar like Veer Shiromani Maharana Pratap, Bhaktimati Meera Bai, Jhala Maan, Bhamashah, Hakim Khan Soor, Panna Dhay, Paathal and Peethal.
What CM Raje had to say?
CM Raje expressed immense gratitude towards PM Modi for bolstering Rajasthan's developmental journey. She said that the Union Government was making a new India under the PM Shri Modi's leadership.
Empowered and Strong Rajasthan is emerging under PM's guidance," CM Raje asserted.
"His vision and strong will led country to emerge as a global power. She said that as a part of Team India, Team Rajasthan was also developing an empowered and strong Rajasthan, in which all the sections of society progress," CM Raje added.