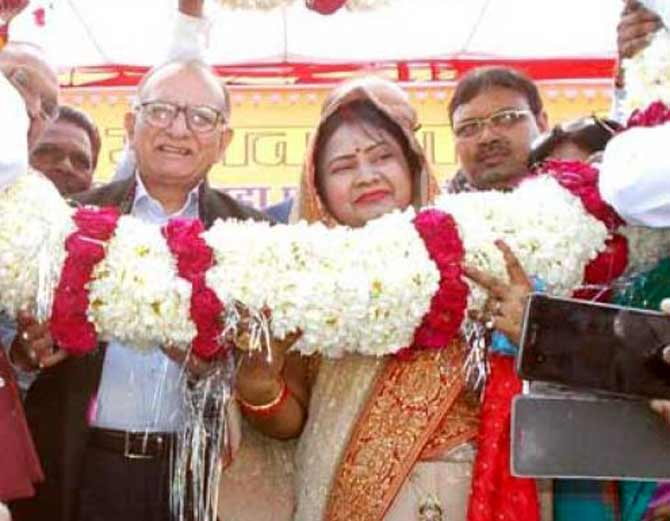 With the Dholpur elections just around the corner, the by-poll frenzy is only growing manifold by the day. As destiny would have it, the then ruling MLA B.L. Kushwah was convicted of a murder case. Following this, Kushwah's wife took charge, managed to grab a BJP ticket and is now posing as a strong contender of the Dholpur elections 2017.
Despite the murder case, Kushwah lingers strong in the hearts of Dholpur people, which is one of the many reasons why BJP is most likely to seal a thumping mandate in these elections, replicating the winning streak in the state assembly elections.
Helmed by Smt. Vasundhara Raje, BJP has manifested dreams of many Dholpur people, who wished they had adequate supply of water, better living conditions, robust healthcare system and landmark education system.
Congress and BJP share nothing in common except that they are both prominent Indian political parties. Congress is a party which fabricates stories and emits sugarcoated promissory statements to win vote banks. Contrarily, BJP is straight forward and lucid with it's promises. It does what it says and says what it does. No amount of pretence and perfidy exists in the BJP group, is what I have learnt from personal experience.
After a massive defeat in the state assembly elections, Congress has pinned high hopes to the upcoming Dholpur elections. Indian's oldest party, INC is now planning to introduce Banwari Lal Sharma as their candidate.
In my knowledge, the Dholpur voters are banking on BJP.  There are majorly two reasons for this support:
BJP has proved to be a landmark political party, which thrives on ushering growth and prorpseity to the whole nation. Amidst the Modi-Wave which has swept the whole nation, people are relying on BJP in hopes of seeing a better Dholpur.
Another one and half year to go for State Assembly elections 2018, which is all likely to change the face of Rajasthan by all means. People are smart. They are hinting at a better position with BJP at centre, in addition to the Maharani of Dholpur, Raje's face in front of governance.
Raje led BJP bolstered the developmental process in Dholpur. These works are not recently started, but dated three years back, when Raje assumed office. A 32-km long road connecting Dhaulpur and Rajakheda has been built in Dholpur, which has buttressed the interconnectivity of roads in the district.
Additionally, a Chambal water canal pariyojana is also underway. It is aimed towards ensuring effective cluster distribution. Not only this, in a state like Rajasthan where the water level is below normal levels, Raje government in the last three years strived to provide adequate water supply to one and all. Dhaulpur Lift Pariojana has also been initiated on similar lines.
Ms. Raje is called a people's leader for a reason. She understands the pulse of the people in Dholpur. She allocated an ornamental budget of Rs 100 crore, which will engender standardised hospital services to the last man in the district.
Raje government has also ensured Fluoride free water supply for villages across Dholpur. This has plummeted deaths due to Jaundice, Typhoid and the alike.
People have been showered with almost everything they envisioned in a better Dholpur. More is underway in the BJP books. The Saffron party is all likely to witness another major victory in Dholpur, while Congress is struggling hard to win the Dholpur battle.