While addressing the media on Wednesday, State Agriculture Minister Prabhu Lal Saini revealed that the United India Insurance Company is going to settle the crop insurance claims worth INR 277 Crores for over 2 Lakhs farmers in 6 districts of Rajasthan. These are the pending claims that need to be disbursed among the farmers who are entitled to be benefited by the Prime Minister Crop Insurance Scheme for the Kharif crop yield in 2016.
Talking to the media, the minister revealed the reason behind the delay of the settlement and even said that the claims have been finally cleared due to the efforts of Chief Minister Vasundhara Raje. Discussing the issue in detail, he told media that the insurance company had questioned the figure of harvested crop yield provided by the state revenue board by submitting a memorandum to the agriculture commissioner.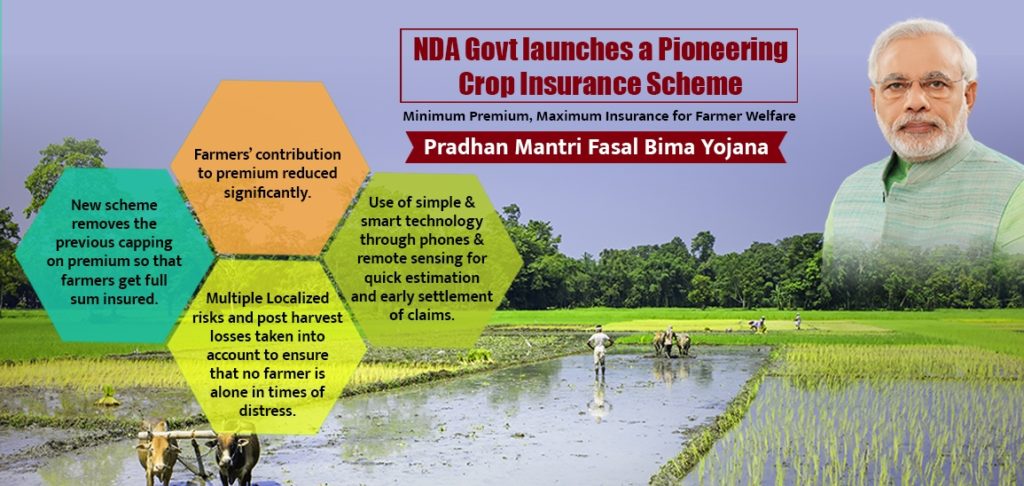 Image Courtesy: narendramodi.in
However, when the commissioner objected the contradiction and directed the company to clear the claims, the company approached the Joint Secretary of the Union agriculture ministry. After this, a meeting of the technical advisory committee was held by the ministry in the presence of company officials and it was decided that the company would immediately settle the claims worth INR 223.74 Lakhs to farmers of 20 blocks in 6 districts of the state.
Reportedly, the United India Insurance Company had disbursed INR 53.21 Crores to farmers in 6 districts namely Churu, Jalore, Sri Ganganagar, Udaipur, and Sirohi. The minister further revealed that the company will be soon depositing the claims worth INR 276.95 Crores in the accounts of 2, 12,362 farmers.
The total sum assured for the Kharif season 2016 was INR 10,000 Crores for which the premium amount of INR 2024 Crores was paid. Of this total amount, INR 216 Crores was paid by farmers while the rest of the amount was paid by the state and centre.
In the last 4 years, the benefits of the Prime Minister Loan scheme has reached to 2.32 Crore farmers. Besides, premium worth INR 5580.71 Crores has been paid and insurance claim worth INR 5273.53 Crores was claimed.