Rajasthan CM Vasundhara Raje cancelled her Bharatpur tour. Today, CM Raje was going to start the second phase of her Rajasthan Gaurav Yatra. Due to critical health condition of Former PM Atal Bihari Vajpyee, this sudden change has been implemented. The first phase of Rajasthan Gaurav Yatra was begun on 4th August from Udaipur which ended on 10th August.
पूर्व प्रधानमंत्री श्री अटल बिहारी वाजपेयी का स्वास्थ्य खराब होने के कारण उनकी कुशलक्षेम पूछने मुख्यमंत्री श्रीमती @VasundharaBJP आज दिल्ली गई हैं। इस कारण राजस्थान गौरव यात्रा का दूसरा चरण स्थगित कर दिया गया है।

— BJP Rajasthan (@BJP4Rajasthan) August 16, 2018

CM Raje changed the schedule of her yatra so she can visit the great leader Atal ji who is hospitalized at AIIMS. As per the reports, she will soon leave for Delhi. Although the 93-year old veteran leader has been ill from long and was hospitalized since 11th June, 2018 but his situation got worsened since 15th August's eve. He is on life support system.
Due to his health conditions, people are praying across the country for his recovery. In fact, leaders are flying down to Delhi to meet. BJP veteran leader LK Advani reached Delhi to see his friend and leader Atal ji. Other leaders who came to visit him are Rajnath Singh, Mukhtar Abbas Naqvi, Vice-President Venkaiah Naidu, Prakash Javadekar and BJP President Amit Shah. PM Narendra Modi met him many times and is likely to visit today again. Apart from these, leaders are continuously coming to visit him since the time he got hospitalized.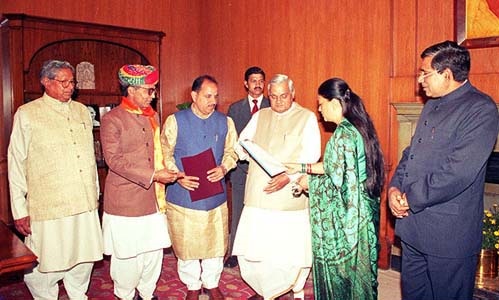 CM Raje and Atal ji
Soon after Former PM Atal ji hospitalized in June, CM Raje visited her at AIIMS. That time, his health conditions were stable. Vasundhara Raje considers and calls atal ji the biggest leader of Bharatiya Janata Party. She was minister in the cabinet of former PM Atal Bihari Vajpayee.
Atal Bihari Vajpayee
Atal Bihari Vajpayee is currently the oldest living former Indian Prime Minister. He served India's Prime Minister from May 16, 1996 to June 1, 1996, then between 1998 and 1999 and finally from 1999 to 2004.