These days, Chief Minister Vasundhara Raje is on the top of the list of most-searched leaders in the state. CM Raje has been working towards making Rajasthan digitally empowered state. No wonder CM has achieved the goal by making Rajasthan #1 in terms of digital development. Even the women of Rajasthan are getting tech savvy under the e-Sakhi initiative by CM Raje.
e-Sakhi is an ambitious vision of CM Raje to provide digital literacy and employment for the women in the state. Knowing the fact that Women literacy rate in Rajasthan is not exemplary, CM Raje has planned this empowering program. This is what CM Raje says about e-Sakhi-
'We are making Rajasthan strong, aggressive, and a progressive state. Women are our new strength and they are going to unleash new energy.'
e-Sakhi: A determination to light the digital literacy torch in Rajasthan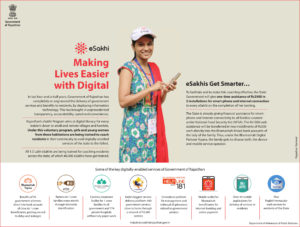 Rajasthan state Department of IT & Communication has initiated this program in 2016. The programs aim is to make every individual in the state digitally literate. The government leverages the 'Girl Power' wherein young women act as a patron in charting the course.
The DoIT&C selected every eight person from every village and every fourth or fifth person in the ward as eSakhis. Department selects young women, falling the age between 20-35 and have passed Class XII, for the training. Under the program, the government has skilled total of 1.5 Lakh women as eSakhis.
After the skill training, e-Sakhi further has to train at least 100 people on how to access digital services. They also create an email and WhatsApp groups to share the relevant information with the trainees under them.
Further, e-Sakhi's training helps people in accessing digital services using his/her own mobile or e-Mitra kiosk. This is the power of Digital Literacy that everyone can access the digital world.
Women who want to be eSakhis can register online through the e-Sakhi app or website. For this, the volunteer must have an SSO (Single Sign-On) update with the Bhamashah ID. Hence the vision of CM Vasundhara Raje has been fruitful in the state by providing employment and digital literacy for women.
Read more: राजस्थान: भारत-पाक बॉर्डर पर बीएसएफ जवानों के साथ दशहरा मनाएंगे गृहमंत्री राजनाथ सिंह