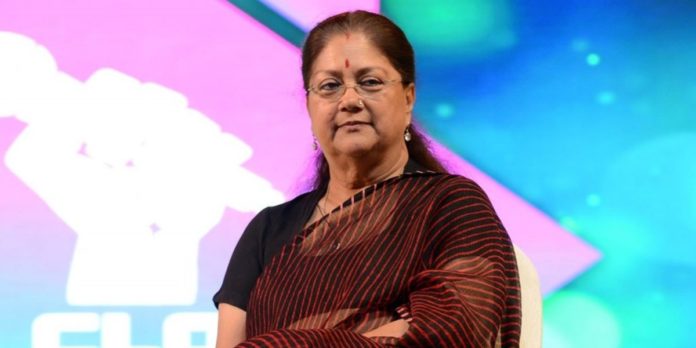 Chief Minister of Rajasthan Vasundhara Raje ranked on top in the list of most-searched politicians/leaders on the internet in the state. CM Raje remains miles ahead of her rival leaders.
Google search trends showed this rank from September 9 to October 7. During this period, CM Raje scored several times more than her counterparts from Congress like Ashok Gehlot and Sachin Pilot.
In addition to that, her following on Twitter and Facebook is more than the Congress's active party leaders in Rajasthan. CM Raje's following on is more than Ashok Gehlot and Sachin Pilot put together.
CM Raje's following on Twitter is five times more than those of Pilot and six times more than Gehlot's. Although Congress General Secretary Ashok Gehlot joined the twitter in October 2011. Conversely, CM Raje joined in March 2013, 1.5 years later than Gehlot.
Reasons, why CM Raje topped the most-searched politicians' list
CM Raje is one of the most active leaders in state and on social media as well. According to the Google trends, people search CM Vasundhara Raje because of her ubiquity among them. Be it her popular schemes and plans like Bhamashah Yojana or Digital Rajasthan.
Chief Minister Raje has been honored with the Chief Minister of the year award since last two years. In addition to that, this year CM Raje joined the rank of top 100 leaders for digital governance.
Raje is enormously popular among youngsters by virtue of her digital initiatives like Digital Rajasthan, DigiFest and Bhamashah Techno Hub. CM Raje brought the state on the top in digital development this year.
In addition, CM Raje is popular among women of the state and plays the role of an idol. Raje's schemes and projects for women's welfare grabbed the attention of female internet users. Farmers and the people from rural areas have also started following her amidst her state-wide whirl Rajasthan Gaurav Yatra.
Read more: ज़ीका वायरस जानलेवा नहीं, जागरुकता व स्वच्छता है बचाव की कुंजी…