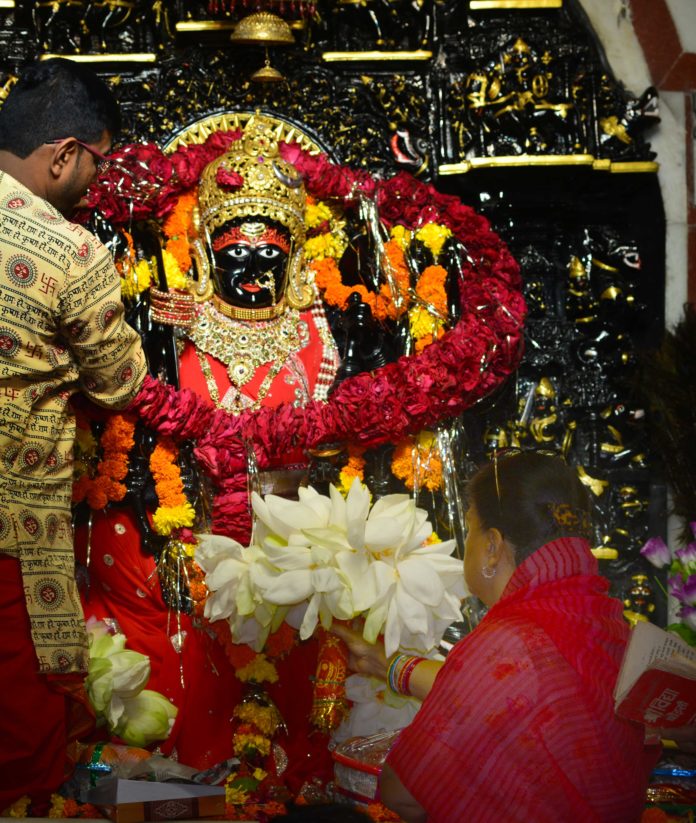 Raj Chief Minister Vasundhara Raje's 'Vijay Yatra'- Rajasthan Gaurav Yatra is on full throttle. . Yatra Rath was in Banswara on 4th day of the ambitious journey of CM Raje. Considering a good chance to flip the chair of Congress MLA in the area, CM Raje evaluated developments in the area. CM Raje slammed Congress MLA's false promises and lack of developments in the area. CM Raje said to people, 'When I last time visited here, some of you came to me with various problems. I have passed the budget for the solutions and planned various schemes for the area, which are being implemented in the area. 'Unlike Congress, we equally develop the area despite other party MLA' said CM Raje.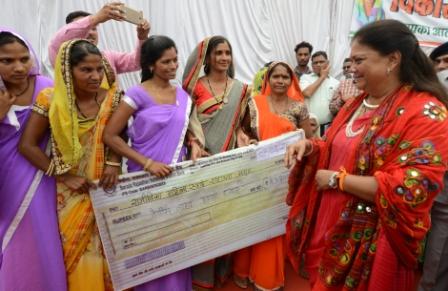 CM Raje granted donation cheques to various self-help groups
In Parallel CM rightly slammed Congress that after providing enough funds, local MLA failed to develop the constituency. Raje said, 'Yeh Ghoshnayein Karne Mein Kumi Nahi chhodte, lekin kaam kuchh Nahi Karte.' CM Raje further added, 'It is their benefit to keep you busy in your poverty and distress, so you can't get time to raise any question' Raje urged, 'Duur Raho unn logon se jinhone loot-khasot Kar Samay nikala hai (Stay away from them, who spent the precious time in looting you).'
Highlights of the day fourth
The day started with the worship of Mata Tripura Sundari in Umrai, Banswara. Mata Tripura Sundari is a 'Shakti-peetha' and CM Raje seeks her blessing before every election as Mata is known for her power to bless devotees with 'Raj Yog'.
After the religious ritual, Rajasthan Gaurav Yatra reached nearby Gangartalai panchayat, where thousands of people were waiting for CM Raje's Rath. Local MLA and party workers greeted CM Raje by offering her traditional 'Chunri' and handling tribal emblem- bow and arrow. Folk musicians performed melodious Vagad folk song for CM Raje.
Chief Minister greeted Vagad people in their own language. Raje said, 'Nothing can be done without the grace of god and people's support. I'm heartily thankful for your love and support.' CM Raje conveyed the detail about various development statics and government schemes. 'Tribal people are now in the main stream through the various welfare schemes. They are now educated and able to access the government benefits. They are getting water, electricity, gas and education facilities.' CM added.
'Government has spent approx 136 crore rupees on water supply in 82 villages of Banswara and the expenditure is still going on.' said Raje. Talking about UPA's Indira Aawas Yojana, CM again took a toll on opposition saying, 'Under Indira Aawas Yojna, congress government built only 1 or 2 houses in a village. Some of them are left incomplete. But in this BJP tenure we built 100 to 200 houses in a village and even provided water, electricity and gas supply to the houses.'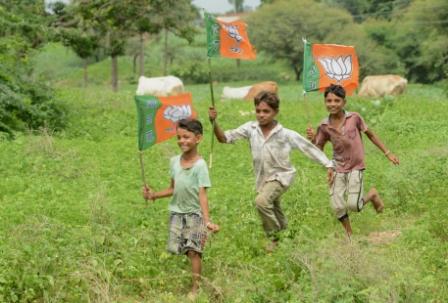 Even kids cheered the CM and the whole yatra in Monadungar talai area in Banswara
CM Vasundhara Raje's Rajasthan Gaurav Yatra is being welcomed in all constituencies and gaining popularity. Hence Rajasthan BJP is all set to claim another thumping victory in the state.