Chief Minister Vasundhara Raje inaugurated Auwa Mata Temple panorama in Pali's Marwar Junction town on August 30. CM Raje unveiled the biggest panorama in the state during her Rajasthan Gaurav Yatra in Jodhpur Division. The Panorama showcases Thakur Kushal Singh's life-size statue, who had played a valorous role in the freedom revolt of 1857. CM Raje also re-established Auwa Mata (Sugali Mata) statue in the temple after 161 years. This is the biggest panorama in the state, made with the expense of INR 4.5 Crores by Vasundhara Raje government.
Auwa Mata as an inspiration for 1857 Revolt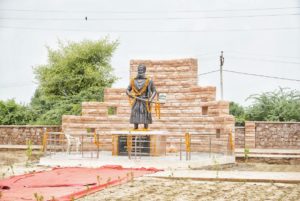 Rajasthan is known for it's valorous history. During the independence struggle of 1857, goddess Sugali Mata has been the inspiration for freedom fighters. Sugilimata is the Kuldevi of Auwa. The spark of the military revolt of 1857 came to Nasirabad Cantonment of Rajasthan on 28th May and and spread as a fierce fire in Rajputana.
During the independence struggle of 1857, princely state of Auwa was the center in Rajasthan. Auwa was a hideout for Thakur Kushal Singh Champawat. He defeated the British army in the Battle of Chelavah. Not only that, the head of the Marquard political agent, Mock Mason, was hanged at the front door of the Auwa fort. After this war, the Britishers started to fear the idol of Auwa and goddess Sugali Mata of the fort.
Sugali Mata: A Rare embodiment of Goddess Kali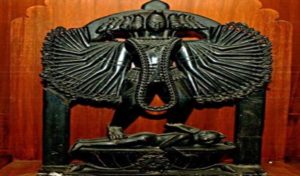 This idol of Suglimata is believed to be a 'Tantrik' form of Kali (Shakti). The goddess has 10 heads and 54 hands. One is human and the other faces are of different animals. Goddess holds a different weapon in each hand. Human-skull necklace is embellished in the neck, which hangs down to the knees. The height of the statue is approximately 3 feet 8 inches. The angry goddess is champing a monster under her feet.
Goddess Sugali Mata was an inspiration for freedom fighters in the independence war of 1857. It is said that freedom fighters used to start their activities by sighting the goddess.
After suppressing the freedom fighters, the Britishers removed the statue of Ma Shakti from the fort of Auwa. The Britishers had the fear that the belief in the idol of Goddess (Sugali Mata) revolves around the movement of the rebels. The Britishers took the statue to Mount Abu. Later it was established in Ajmer Rajputana Museum in 1908 and after independence it was shifted to Pali Museum.