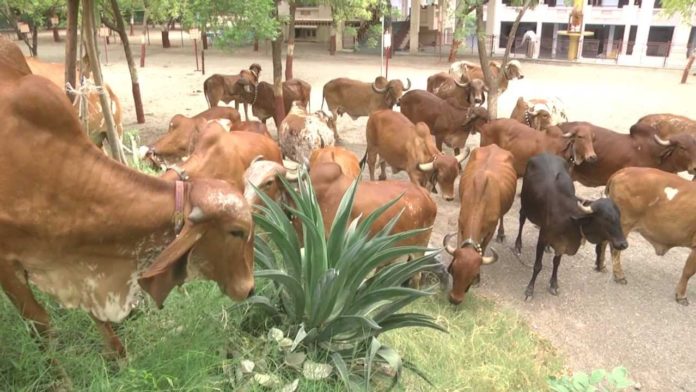 The Rajasthan government led by CM Raje have contributed immensely towards the upliftment of the cattle houses and animal husbandry standards. The Rajasthan government led by CM Raje constituted a highly effective committee which took charge for the same.
Aid provisions at Gaushala/ Kanji House
Rules and regulations in relation to Gau promotion and reservation have been declared in the 'Nidhi Niyam, 2016'. Cattle houses which are three years or older are given an amount of Rs 32, while those younger than 3 years are given Rs 16 on a daily basis.
In 2016-17, there were a total of 865 cattle houses with an assigned sum of 9221.77 lakhs. However, a sum of 3984.57 lakhs was utilized for a total of 326 cattle houses in 2017-18. In total, 1191 cattle houses have devoted a sum of 13206.24 lakhs.
Bovine registration & Castrate aspects
In the year 2015-16, cattle houses have observed an expansion of breed and increase in milk production. The production cycle of Bovines and cattle is being monitored and checked thoroughly. Breeding cattle and bovines are marked for identification purposes. The breeding cattle are given special attention – continuous assessment of diseases, follow-up, and protection from unwanted breeding. All the breeding cattle are registered with Central Krishi Vikas Yojana. The Rajasthan government has incentivised the process of cattle registration to encourage maximum registrations.
CM Raje led government has announced a sum of Rs 250/ per breeding bovine registered and Rs 150 for normal registration of bovines. Here is a detailed chart of registrations. In 2015-16, the registered number of the castrated cattle were to the tune of 24104 while it surged to 55568 in 2016-17. The number of registrations has risen to 1153 cattle in 2017 from 931 in 2016.
Meetings, Training for greater efficiency
The managers of cattle houses or gopalaks are trained and given a thorough understanding of animal husbandry and other related aspects of cattle keeping. In a three-day tour, gopalaks are taken on a visit to ideal gaushalas. This helps them imbibe various techniques and ideas for balanced cattle meals, maximum milk production, managing finances, among various other parameters of cattle keeping.
In 2015-16, about 923 visits were conducted to ideal cattle houses for training and skill development of gopalaks. There were 449 visits in 2016 while 305 in 2017. More than 250 gopalaks were trained in the sphere of cattle development in 2016, while 297 were trained in 2017 and an impressive figure of 305 was achieved in 2018.
Not only this, one of the best cattle houses is awarded a sum of Rs 10,000 at the Zila Samaroh which takes place yearly on  January 26.