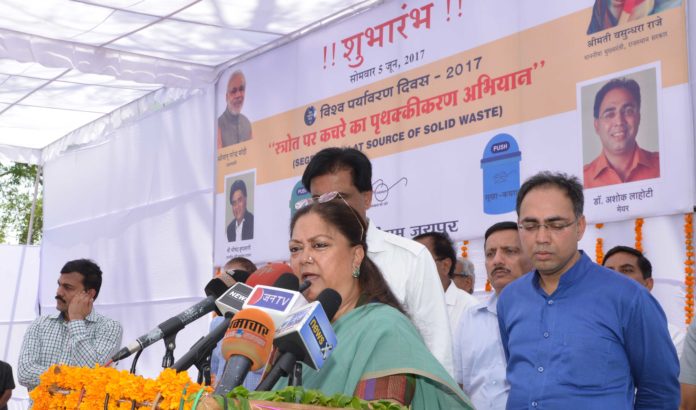 Rajasthan Chief Minister Vasundhara Raje launched 'Segregation of waste at the source' on Monday morning.
CM Raje sends a clear message by self-demonstration
Mrs. Raje inaugurated the drive by segregating the wet and dry garbage in different door-to-door garbage with different colors of dustbin.
'Clean Jaipur-Healthy Jaipur, Clean Rajasthan-Healthy Rajasthan'
CM Raje said that if the city will remain clean, it will be healthy. And if Rajasthan will remain clean, the whole state will remain healthy. This is a very influential statement in the wake of increasing pollution levels.
Wet waste in Green & Dry in Blue dustbins
CM Raje informed that informed steps from our end can ensure segregation of waste at its source. Disposing wet waste and dry waste in green and blue colour dustbins is the key to ensuring 'segregation at source'.
This step will ensure that garbage is properly disposed of, thereby inflicting least damage to our Mother Earth.
Mixing of wet and dry garbage will leave adverse imprints on the environment. Hence, we should all pledge to segregate waste at source, CM Raje said.
On the World Environment Day, Raje took the opportunity to launch this stellar campaign which aims at ensuring rational and diligent decisions from every Rajasthani towards protecting the environment.
Notably, this campaign will emerge at par alongside a multitude of schemes launched by the Rajasthan Government under the able leadership of CM Raje.
Roadmap for adoption of scheme in other cities
This campaign of waste disposal has started in 4,041 cities of the country. Impressively, Jaipur has become the first city to adopt this campaign, which will be followed by other major cities as well.
CM Raje also distributed green and blue dustbins to the people coming from different wards so that people use them in their house and collect wet and dry garbage separately.
CM Raje also urged all to make this campaign a successful one while delivering a strong message to the people of the state.