With the aim of reaching out to voters of Rajasthan, BJP started three-day Booth Mahasampark Abhiyan (booth mass campaign programme) on 2nd November. Today, this campaign will come to an end. Under this campaign, BJP is meeting around 4.75 crore voters of the state within three days. This campaign is started at various places in the state. Know more.
HRD minister and state election-incharge Prakash Javadekar started this campaign from Govindev Temple in Jaipur while state organising secretary Chandrashekar started his campaign from Bhomiaji temple. To begin this, CM Vasundhara Raje started the campaign from Jhalrapatan and state home minister Gulab Chandra Kataria from Udaipur. This campaign is supported by all senior and other leaders of BJP.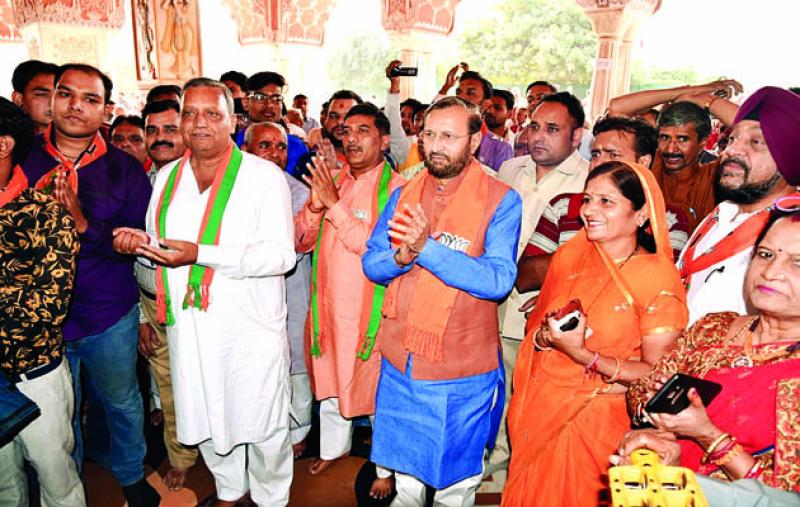 Details of Booth Mahasampark Abhiyan
Under this, leaders are reaching out to the beneficiaries of various schemes implemented by the Centre as well as the state government. In fact, the party workers are supposed to reach out to people two hours in the morning and two hours in the evening. Discussing more in length, people should be made aware of central government schemes. Along with this, a sticker 'I am with the BJP' should be pasted outside homes with the permission of owner.
Programs to be held after Booth Mahasampark Abhiyan
Parivar Milan Program: 5-8 November
Prabudh Nagrik Milan Program: 8-11 November
Mera Parivar-Bhajpa Program: 10-11 November
Yuva Town Hall Program: 21-22 November
Kamal Diya Program: 30 November