Rajasthan BJP seems confident as CM Vasundhara Raje said- BJP would form the next government both in Center and the state. CM Raje was addressing a meeting of party workers at Ranakpur on Sunday. The chief minister said that the BJP has the unity and uniformity while the Congress has several faces and is a divided house.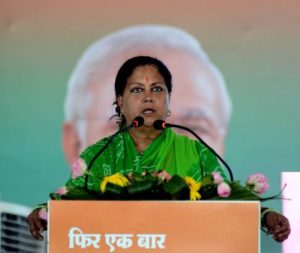 'Various Congress leaders have already become chief ministers and formed their cabinets even before the elections. On the other hand, the BJP workers would clear their misunderstanding in the upcoming assembly elections, CM added.
In the meeting, CM addressed BJP workers from 31 assembly constituencies, including Jodhpur, Pali, Bikaner, Sriganganagar, Churu, Hanumangarh etc. Hence head of assembly election in December, BJP is all set to claim for another thumping victory in the state.
Churning over next candidates for assembly elections
Before the meeting, CM Raje asked the workers to submit their suggestion on the candidates. The workers submitted their written suggestion to the chief minister in sealed envelopes.
CM Raje said the workers have the right to claim tickets from the party, but their targets should be to ensure the 'Lotus' bloom in the state yet again.
The chief minister took a dig on the Congress' "optimism" over the tradition of the state having the alternate government of BJP and the Congress. Raje also said, 'under the fears of losing the upcoming state assembly elections, the Congress had moved the Supreme Court. Congress alleged the existence of fake voters in the state, but their plea was quashed by the court, CM added.
CM Raje exuded confidence that the BJP will form governments both in the state and the center under the leadership of Prime Minister Narendra Modi and BJP supremo Amit Shah. Therefore, the BJP has clear faces for candidature in the center and in the state as well.
Read more: रणकपुर में महामंथन, अशोक गहलोत को उनके ही घर में घेरने की तैयारी में भाजपा