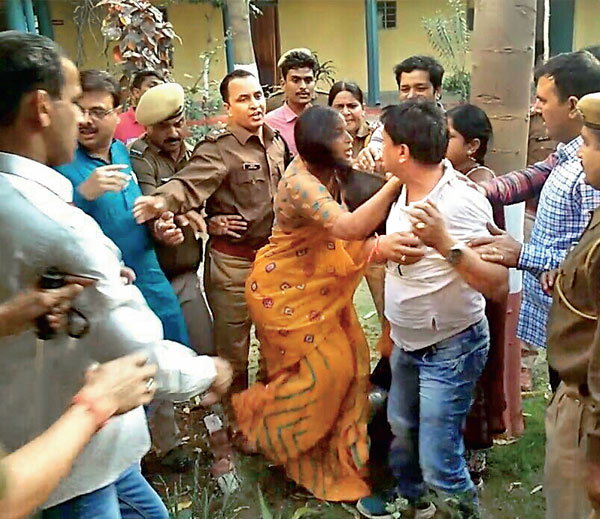 People often get pissed off with traffic police duties, but it's the law we must chase and not those policemen.  But some people remain so much engrossed in their possession and power that they do not realize that their actions can influence many others. The recent incident at Kota recites the similar story, where husband of MLA Chandrakanta Meghwal  let his agitation out at diligent police officer. The video of their fight clearly shows that the matter could be handled with much wise but got turned into a bad mess. When the MLA was asked about the fine, the policemen were surrounded by the culprit group and asked to cancel the traffic chalan.
The argument over cutting out the chalan part got messier and developed the tints of a fight. Soon after, Mr. Meghwal slapped the police and then in return police used batons. Policemen were then bludgeoned by the party workers. The officer charge  mentioned that the situation got so much furiously dangerous that a cop was mistreated. The incident followed a complaint against all the party workers and Mr. Meghwal.
To her defense, the lady lawmaker mentioned that, "No police station should be equipped with such policemen". She blamed the cops of ill-treating the party workers and sending them to hospital.
She even alleged them that during the fight, her saree got torn and even bangles got broken. She must understand that, one cannot clap with just one hand. If she would not have mentioned any such special treatment, she would not have received such ill-treatment. Law is made to follow and that's what those diligent policemen were doing .
Being unbiased on this incident, Rajendra Rathore, the Rajasthan minister said, "No one has the right to take the law into their hands we will investigate the matter and take appropriate action".