Here we cite former chief minister Ashok Gehlot's obsession to become 'Crorepati' as his recent remark is trending today. During AICC media briefing on Wednesday in New Delhi, a reporter asked him- 'who will be the chief minister if Congress wins assembly polls?'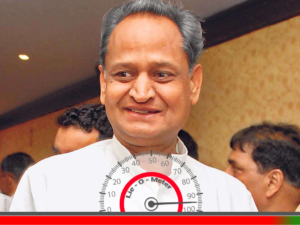 Citing a popular TV show 'Kaun Banega Crorepati' (KBC), Ashok Gehlot quipped – 'Does anyone know before-hand that who will become crorepati?' That was prompt!
Though, Gehlot's response drew peals of laughter from those present, including Rajasthan PCC chief Sachin Pilot and spokesperson Randeep Surjewala at the PC. In addition, Surjewala boosted Gehlot's remark by giving a metaphor to it. 'This is like "Dhoni's helicopter" by Gehlot Ji' Surjewala said. AICC called the press conference on Wednesday to announce former BJP MLA Manvendra Singh's joining to Congress.
By the way, 'Kaun Banega Crorepati?' is a very popular TV show which is hosted by Veteran Actor Amitabh Bachchan. In the show, participants get the cash prize by answering some tricky general knowledge questions.
Therefore we are puzzled, why Gehlot needed to throw this sort of answer for the question for chief minister's candidacy? Does he think becoming chief minister is equivalent to becoming crorepati?
It is pretty possible folks. It is very well known that how Gehlot's power during his tenure helped his family to get easy land occupancy and fertilizer tenders? Who can forget when the former CM used to complain about the budget shortage and empty treasure.
In fact, they had extracted people's money in the name of various taxes. They took heavy loans for the nation and international banks. The party who ruled the state for 50 years left Rs 80,000Cr debt on the state. They neither paid loans nor completed the work. Gehlot's government left pending work worth Rs 2.5 lakh crores on the next government. Now we know where are these Crores? and who became the 'Crorepati'?
It is the Congress who had procured just half of the crops than the BJP has been procuring in this tenure. It is the Congress who never waived a single penny of the farmers and still try to sling the mud at Raje government. It is the Congress who never spoke or raised any question in assembly sessions in the last 5 years.
So our verdict is, the Congress is misleading public just to get the vote so that they can win and become "Crorepati". They clearly lie in the name of development or farmers' welfare. The level of their lie is pretty high at 95%. We leave 5% for the Congress as they have finally started talking…at least in the election season.
Read more: Know why Congress is called the Mother of Scams and heavy Debts?