Former chief minister Ashok Gehlot has failed miserably after a report by the Association of Democratic Reforms (ADR) came out. The report says that Former CM did not ask a single question in the whole term of 14th legislative assembly.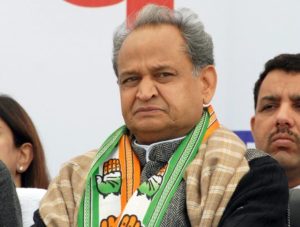 According to the report, the MLA from Sardarpura, Jodhpur, who never misses an opportunity to question Raje government through his social media accounts failed miserably to raise even one in assembly.
ADR prepared this report under SR Abhiyan in association with Rajasthan Election Watch then released it on Monday in Jaipur. The report painted a sorry picture for Gehlot who hadn't even discharged the responsibility towards the people of his constituency.
Ashok Gehlot- as an irresponsible representative
The report is not limited to just raising questions but also Ashok Gehlot's attendance in the assembly. The report says that former CM appeared in the assembly for only 25 days out of 139 days of proceeding in 11 sittings.
Gehlot's dismal attendance in the assembly has been under fire from the chief minister Vasundhara Raje. CM Raje slammed him many times for being indifferent to the people of his own constituency.
During Rajasthan Gaurav Yatra in Jodhpur division, CM Raje challenged him to prove if he had raised an issue of the people of his constituency.
Ashok Gehlot is known for his absence from the assembly when in opposition. Even in his tenure, he was rarely seen on some occasions and had never attended the full-day proceeding. Hence the former CM failed to discharge his responsibility as the representative of the people of his assembly.
Read more: राजघराने से नाता रखने वाली वसुन्धरा राजे ने कैसे तय किया मुख्यमंत्री तक का सफर, जानिए