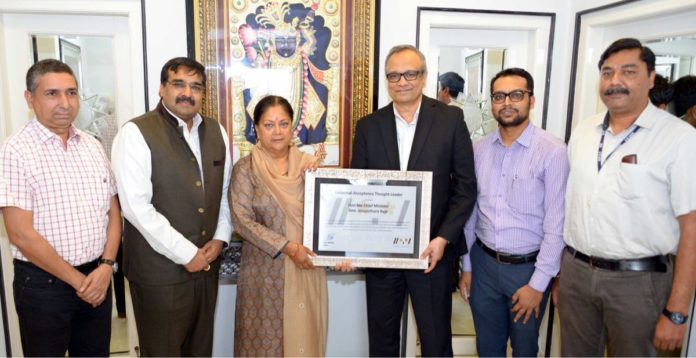 As one more feather in the hat, Hon'ble CM of Rajasthan Vasundhara Raje received an award for her efforts to make Rajasthan digital. Global internet boy ICANN-supported UASG conferred 'Universal Acceptance Thought Leader' award on CM Raje for enabling email service RajMail for people of Rajasthan.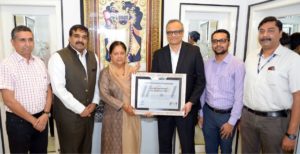 Universal Acceptance Steering Group (UASG) has recognized work of CM Vasundhara Raje and IT Department of Rajasthan for RajMail project that enables access to the email address to the people in local script. More than 20 Lakh people have been benefitted with the email service. Thus the UASG has conferred the award to CM Raje.
UASG is working towards achieving truly multi-lingual internet, one in which users around the world can navigate entirely in local languages. The body is supported by the International Corporation for Assigned Names and Numbers (ICANN). ICANN is a non-profit organization and manages rules around website access over the Internet.
Though, this is not the first time that CM Raje has been honored with an award for her Digital Rajasthan initiatives. CM Raje has been receiving the title of 'Chief Minister of the year' for last two years. Raje recently ranked among top 100 digital leaders. In addition, Rajasthan state has become the second digitally rich state under Vasundhara Raje government.
What is RajMail?
RajMail is a free email service for every citizen of Rajasthan by Rajasthan government. CM Raje government took a lead under Digital India Mission. Now, Rajasthan is the first state in the country to remove language divided by offering the first of its kind linguistic email service made in India.
So, the RajMail is an app on which user can create a free email address on @rajasthan.in along with email address in Hindi on @ राजस्थान.भारत. The email account can be authenticated by Bhamashah and Aadhar card. The technology for the project was developed by Rajasthan based firm Data XGen Technologies.
Read more: 'इंतहा हो गई इंतजार की, आयी ना कुछ खबर कांग्रेसी लिस्ट की'