The famous 'AKSHADA' programme will now conduct health surveys of villagers dwelling in Jhalawar and Baran. The Rajasthan government has taken this initiative in association with 'Antara Foundation'. This initiative aims to bolster 'Mother and Child Development' along with boosting the nutrition quotient in the districts.
Identifying, treatment and monitoring of child malnutrition has become a lot easier after associating with Aanganbadi workers, Asha Sahyogini and ANM (Triple-A).
Akshada, which means 'God's blessings', is a unique public-private partnership between the Government of Rajasthan, Tata Trusts and Antara Foundation. The program aims to significantly improve Rajasthan's status in maternal and child health.
Chief Minister Vasundhara Raje was addressing a review meeting of 'Akshada' program with the representatives of the Antara foundation at 'Jhalawar Dak Bangla'.  Aanganbadi workers, Asha Sahyogini and ANM (Triple-A) has a galaxy of knowledge which can easily bolster mother and child health in Rajasthan, CM Raje added.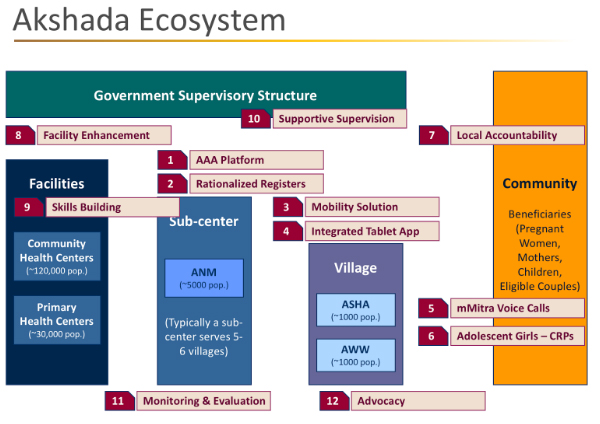 Here are the key highlights of the 'Akshada' program:
AAA Platform
Village Mapping
Rationalized Registers
Mobility Solution
mMitra
Facility Enhancement and Skills Building
Stanford University Partnership
Information about mother's health can be centralised on mKUSHALI app
Through this app called "mKHUSHALI", informtion about mother's health is centraised for ensuring that treatment or medication reaches the needy faster. Aanganwadi worker Rachan Baeragi said that she had collected data f mother-children health by travelling from one village to another. This information can be merged with the triple-A platform.
Through this wonderful initiative taken up by the Rajasthan government, it is now possible to track mother's health and reach out for help if there is any discrepancy.