She is the queen. She has been given the title of "Maharani" by the opposition in a sardonic way. But, the truth is, she's the real Maharani, who is pledged to serve her people. The Chief Minister of Rajasthan, Vasundhara Raje is not someone who comes out to campaign herself only in elections.
CM Raje has been religiously on tour of her state to meet people. She has been inspecting works done under her revolutionary schemes since the beginning of her tenure. She is the Chief Minister who has traveled the most in her state. As the result, Rajasthan has become the best-administered state with effective schemes and plans.
Here is the Maharani, who loves her people, and receives blessings-
The empty can rattle the most. Former Chief Minister can be heard talking about CM Raje and "Maharani" angle, every time he addresses public rallies. Even the "wannabe" chief minister Mr. Pilot talks about CM Raje's royalty. But, have you ever seen them among people like CM Raje?
Think, why does she step out of her royalty to be among people?
The Princess, daughter of HH late Maharaja Jivaji Rao Scindia of Gwalior, the Queen of Dholpur, Vasundhara Raje is pledged to serve her people. Maharani Vasundhara Raje believes in what once Albert Einstein's said- "Only a life lived in the service to others is worth living"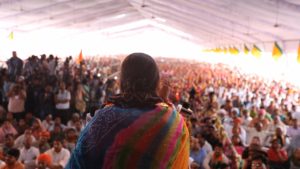 She is indeed a Queen.