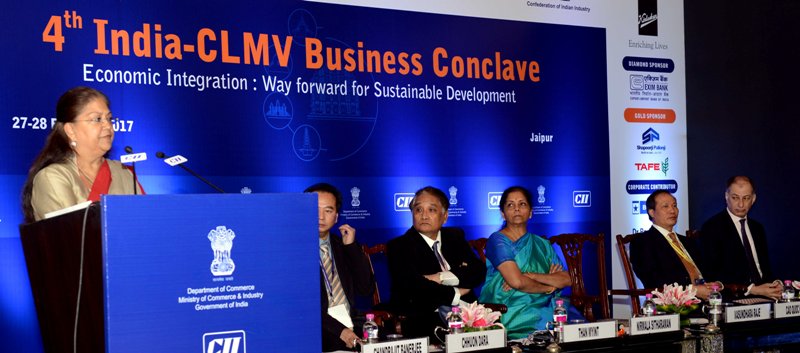 Rajasthan CM Vasundhara Raje, Union Minister Nirmala Sitharaman & other key dignitaries of the Participating Countries Work on Building up Successful Business Relationships…
To accomplish a stable trade economy for Rajasthan, CM Vasundhara Raje has been aiming at identifying lucrative commercial projects for the state. 2015's Resurgent Rajasthan was a fine example of the CM's efforts to seek concrete, long-term business partnerships in key sectors of developments. After enjoying the sweet fruits of labor accumulated in last two years, Raje government is back in action, yet again. The government has been aiming at building strong connections with entrepreneur countries at the 4th CLMV business conclave in Rajasthan. Needless to say, the 2-day summit witnessed an ostentatious opening at ITC Rajputana at Jaipur today.
Rajasthan Looks Forward to Successful Partnerships at CLMV Business Conclave 2017
The ambitious business summit was inaugurated by Nirmala Sitharama, the Union Minister of Commerce & Industry. The meeting involves delegates from Cambodia, Laos, Myanmar and Vietnam.  The 2-day program entails sessions and key notes on entrepreneurship delivered by Cao Quoc Hung (Vice Minister of Industry & Trade, Vietnam), Pan Sorasak (Minister of Commerce, Cambodia), Dr Than Myint (Union Minister of Commerce, Myanmar).
This gala is organized by Ministry of Commerce and Industries, in collaboration with CII (Co-federation of Indian Industry). All attending speakers are expected to exchange ideas and trade secrets on renewable energy, manufacturing, skill development and agriculture. The main focus will be on pitching education, food processing, agro-business, pharmaceuticals, healthcare, jewelry and gems, textile, leather and renewable resources.
Rajasthan CM took the Opportunity to Lure Overseas Investors to Local Trade Markets in Rajasthan
Rajasthan has proven its worth by striking solid connections with fast-developing Singapore, Israel and Japan etc. Realizing the true potential of the state, the CM volunteered to organize the CLMV conference. The event is an important part of the 'Look East-Act Policy' of the state. Based on the outcomes of the meeting, Rajasthan government will do the groundwork for establishing trade relations with eastern countries.
Keeping this in mind, the CM invited delegates to explore the rich socio-cultural, economic and tourist potential of the state. Myanmar is a key exporter of rubies and scarlet. Cambodia is known for its widespread textile and tourism industry. Vietnam is one of the largest exporters of electrical equipment, plastic, organic chemicals and machinery. Lastly, Laos is world-leader in agricultural goods. All these countries share the same resources and markets as Rajasthan. Therefore, CM Raje strategically invited the country heads to attend Vastra 2017 (an international textile fare) in hopes of exposing them to the rich diversity of the state.
Should the 5 states work out common business collaboration, they can mutually benefit from trade relations. In future, this trade relation will play a crucial role in socio-economic development of the state and this is what the government is aiming for, so far.